Manchester United midfielder Paul Scholes still out with knee injury
Manchester United boss Sir Alex Ferguson expects Paul Scholes to be out for another two weeks with his knee injury.
Last Updated: 15/02/13 1:18pm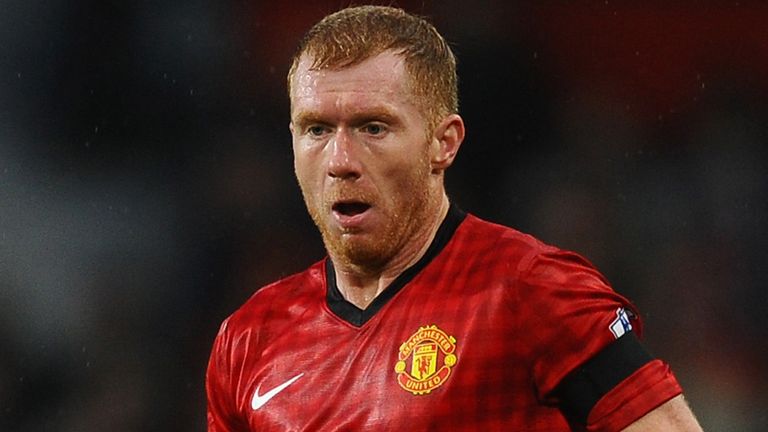 The 38-year-old midfielder has not played since featuring as a substitute in the 4-1 home win over Fulham on 26 January and will not be available for Monday's FA Cup tie against Reading.
"It is a knee injury, which has been bothering him a bit," said Ferguson.
"We have tried another treatment during the week. He will probably be back in another couple of weeks."
Ferguson also insisted Nemanja Vidic is getting back to his best despite being omitted from the team for Wednesday's 1-1 Champions League draw with Real Madrid.
The Serbian defender had impressed in last weekend's win over Everton but Ferguson is happy for him to inch his way back into action after two major knee operations.
"Steadily, he's getting there," said Ferguson. "He was fantastic against Everton and I had my doubts over whether I was doing the right thing or not.
"But, in my mind, three days' recovery was a risk, so I stuck by what we've been doing with him.
"We've managed it for a while now. When Nemanja came back from his latest injury he'd only played about eight games in 18 months.
"That's a long time out and not a lot of games."
Ferguson also had words of praise for David de Gea, who produced possibly his best performance for United in the 1-1 Bernabeu draw with a string of fine saves.
"He is maturing," said Ferguson.
"Very few goalkeepers go into the first team at 20. Gianluigi Buffon and Petr Cech are two examples of those who did but it is not always the case.
"Peter Schmeichel didn't join us until he was 27, and he gave us eight great years."
To find out more about live football on Sky Sports, Click here