Manchester United duo Nemanja Vidic and Rio Ferdinand to be managed carefully
Sir Alex Ferguson has admitted that the time has gone when Rio Ferdinand and Nemanja Vidic could start every game.
Last Updated: 16/02/13 11:49am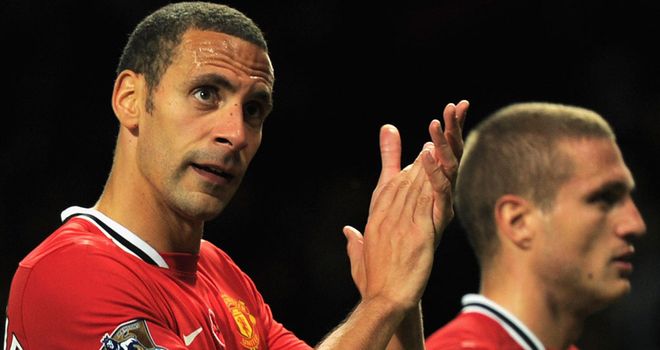 Ferdinand sat out last Sunday's Premier League victory over Everton before coming back in to replace Vidic for the UEFA Champions League clash with Real Madrid.
Ferguson accepts that it was a big decision to leave out Vidic for such a crucial European encounter, but he will continue to manage the Serbian and Ferdinand carefully.
"I had my doubts about whether I was doing the right thing or not because he was fantastic against Everton, but I stuck by what we've been doing with him," Ferguson said.
"Three days to my mind was a risk. It would have been the same for Ferdinand.
"If he had played on the Sunday I would have had my doubts whether to play him on Wednesday."
Evans played in both games and Ferguson is happy to put his faith in the Northern Irishman, who has become increasingly important for United over the past season or two.
"Jonny has emerged as a real top defender and his form has been fantastic," said Ferguson.
"The thing about young players, particularly defenders, when you get consistency from them you know you're on the right track with them.
"I think Jonny has shown great consistency in the last year.
"If you remember what I said about last year, it wasn't until Ferdinand and Evans played regularly together that we got a run going."
Impetuous
Rafael is another young United defender growing in maturity, and Ferguson was delighted with the way he bounced back from a difficult first half at the Santiago Bernabeu.
"Rafael had an horrendous first half," said Ferguson. "He was impetuous. He tried to win the war right away, diving in at players, but he settled down in the second half.
"His game calmed down and he had absolutely no problems. That is a measure of the success he has had this year.
"He has matured terrifically well."