Michael Carrick ready for Manchester United's tie against Real Madrid
Michael Carrick expects an 'extra special' night against Real Madrid, but says Man Utd will need the 'complete game'.
Last Updated: 05/03/13 7:02pm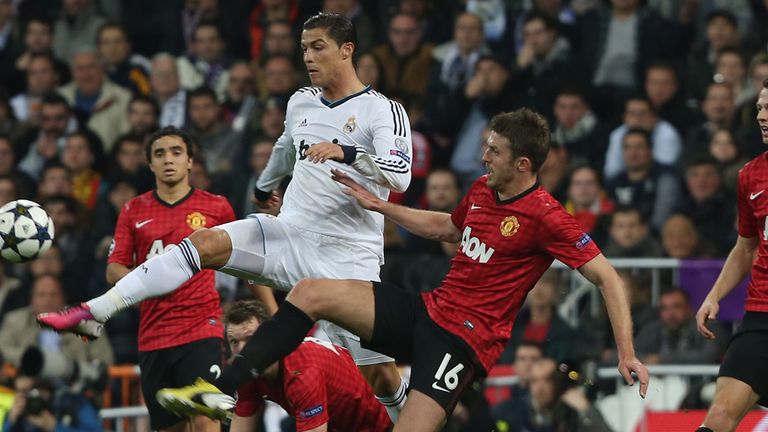 United drew 1-1 in the Santiago Bernabeu three weeks ago when Danny Welbeck's opener was cancelled out by a header from Red Devils old boy Cristiano Ronaldo.
Both teams created chances to win the first leg of the last-16 tie and Carrick says United cannot afford to be too attack minded in front of their own fans.
"We can't [be too gung-ho]," said Carrick. "I don't think we will and I don't think they will; it's hard to know, isn't it?
"The game over there was tight at times, but we could have come away with a 3-1 win and so could they. So it's about taking our chances.
"With the strike power we've got and the strike power they've got, both teams will have to defend well. You have to have the complete game in many respects."
Carrick is looking forward to Tuesday's meeting, adding: "These are the nights you live for. It is extra special. There is just something in the air. Everyone comes to the stadium with a spring in their step.
"Every supporter is that little bit more vocal. They appreciate how important it is and what it means to get through.
"The prestige and history of the club suggests we should be challenging in the later stages of these tournaments. It is up to us to go out there and do it."
Sir Alex Ferguson's love of European combat means United will be fully primed for a task that includes stopping Ronaldo, who returns to his old club for the first time since his £80million move to Spain in 2009.
"Cristiano pretty much has everything," Carrick said.
"He can shoot with both feet. He can cross with both feet. His ability on the ball is exceptional. He can manoeuvre the ball and generate space for himself, and we have saw in the first leg how good he is in the air.
"You just have to defend as best you can, work as a unit and help each other out."