UEFA supports referee Cuneyt Cakir in wake of Nani red card controversy
A UEFA spokesman says the governing body has "no issues" with Nani's red card against Real Madrid on Tuesday night.
Last Updated: 06/03/13 3:08pm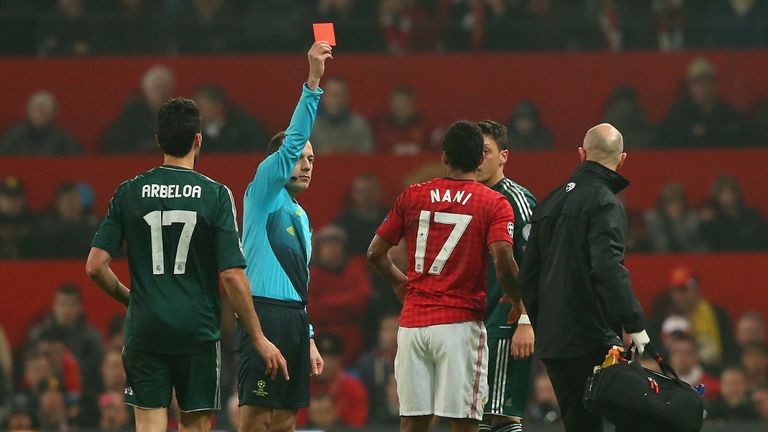 Manchester United were leading their Champions league last-16 tie 2-1 on aggregate when Nani caught Alvaro Arbeloa with a high foot and was sent off by referee Cuneyt Cakir.
Real went on to win 2-1 on the night and progress to the quarter-finals, and the outcome left Sir Alex Ferguson so "distraught" he delegated his post-match media duties to assistant Mike Phelan.
But despite widespread criticism of Cakir's decision in the English press and a furious reaction from Rio Ferdinand, whose sarcastic applause at the final whistle may yet bring sanction, UEFA is backing its man.
The Guardian newspaper quoted a spokesman who said: "We have no problem with him.
"There are no issues for us regarding the sending off and we will wait for the official reports of the match delegate and the referee's observer, as is procedure.
"If they raise concerns then we will act. He remains on our list of officials."
Real boss Jose Mourinho did not want to comment on the decision to send off Nani after the final whistle but admitted that the game changed after United were reduced to ten men.
Difficult decision
He said: "I doubt with 11 against 11 we could win the match."
Spanish midfielder Xabi Alonso added: "It was a difficult decision to take from the referee, but we have seen many games when being against 10 it gets harder. But we have probably produced our best minutes after the sending off.
"For 15 or 20 minutes we have played really well, really patient, and we have scored the two goals. After that we had to push really hard and it was difficult for us not to concede another goal. Our goalkeeper was fantastic."
United No.2 Phelan was stunned by Nani's dismissal, saying: "The decision was amazing, but we had to carry on. Playing Real Madrid with 11 men is very difficult and, in a game of this magnitude with all the world watching, we feel very, very disappointed that we ended the game with 10 men.
"I don't think the manager is any fit state to talk to the referee about the decision."