Manchester United may be in trouble with UEFA after their Champions League exit
UEFA have announced that they have opened disciplinary proceedings against Manchester United.
Last Updated: 07/03/13 8:31am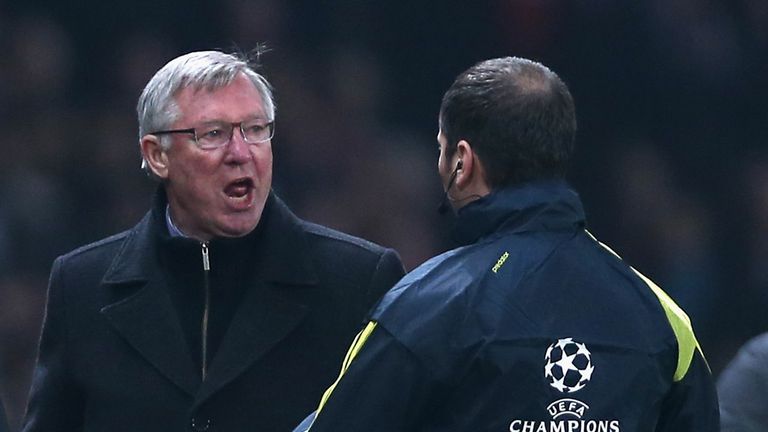 United may be punished for non-fulfilment of post-match media obligations, Sir Alex Ferguson and his players having failed to give any interviews in the wake of their 2-1 Champions League defeat at Old Trafford.
Ferguson was reportedly furious about the dismissal of Nani, who was controversially red carded in the 56th minute, when United were 1-0 up.
Nani was sent off, incorrectly in the opinion of many experts, for a high challenge on Alvaro Arbeloa, and Madrid then scored twice in three minutes to secure a 3-2 aggregate win.
Ferguson did not appear for interviews after the match, and the players did not stop to talk to the media in the mixed zone, as is conventional.
The manager's assistant Mike Phelan did speak to the press and said: "It's a distraught dressing room and a distraught manager. That's why I'm sat here now."
However, Champions League regulations compel clubs to 'make their manager/head coach available' for a UEFA-run news conference within 20 minutes of the final whistle, so Ferguson may be ordered to pay a fine.
A spokesman for European football's governing body said on Wednesday: "UEFA has opened proceedings against Manchester United for the non-fulfilment of media obligations by the coach and players.
"The case will be dealt with by the UEFA Control and Disciplinary Body on Thursday 21 March."
UEFA also say they have opened routine proceedings against Nani over the sending off.
All players receiving red cards for serious foul play in a UEFA match have their case referred to the disciplinary body, which has the power to extend Nani's one-match ban.
However, there was no mention of any action being taken against United players for dissent.
Unhappy United players surrounded the referee at the final whistle and Rio Ferdinand could be spotted sarcastically applauding Turkish referee Cuneyt Cakir.
UEFA had earlier released a statement in support of Cakir's decision to dismiss Nani which said: "There are no issues for us regarding the sending off."
Ferguson is next scheduled to face the media on Friday, ahead of Manchester United's FA Cup quarter-final tie at home to Chelsea.
Phelan, who faced the cameras instead of Ferguson, has backed his players to bounce back against the Blues and continue their quest for silverware.
"It won't be a problem lifting them," he said. "Disappointment in football is a part of the game and, as a football club, we've been here before. We'll bring the players together again and have a look at certain things and kick on now. It's very important that we finish the season well."
Phelan also spoke about the incentive of helping Ferguson win his fourth league and cup double.
He said: "We're in the FA cup still, we've got a great opportunity in the league and I'm sure that will drive the players forward in order to achieve something."