Michael Owen: Manchester United omission a "kick in the teeth" for Wayne Rooney
Wayne Rooney's omission from the Manchester United side on Tuesday was a "real kick in the teeth" says Michael Owen.
Last Updated: 08/03/13 12:04pm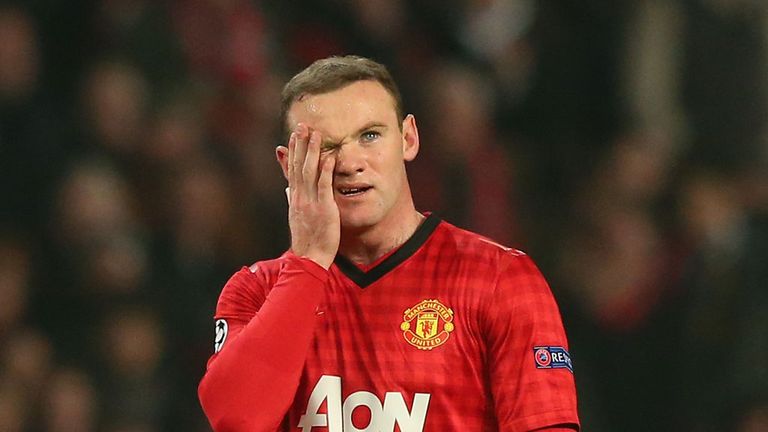 Rooney, 27, was left on the bench by United boss Sir Alex Ferguson, only coming on for the last 17 minutes, as the Red Devils were eliminated from the competition courtesy of a 2-1 second leg defeat.
"For Rooney not to start is a real kick in the teeth and it's got to be a big worry for him," Owen told Talksport. "It's the biggest game of the season and the manager has shuffled his pack and not included him.
"Wayne will take it one of two ways. He will either get his head down, try to improve and force his way back into the team, or he'll think, 'The manager has not picked me for the biggest game, he obviously doesn't fancy me', and it might not be the end of the story."
Ferguson has said repeatedly this season that England international Rooney needs to play matches to keep fit, and takes time to recover when he has a spell out of the side, the reason given for Rooney's omission for Tuesday's game at Old Trafford.
Two seasons ago, Rooney threatened to leave United for a club that better matched his ambition but was convinced to remain.
Owen, who spent three years at United before being released in 2012, insists he never witnessed any evidence of a problem in the relationship between Rooney and his manager during his time at the club.
"When I was at Manchester United their relationship was very good, they talked, shared jokes and there were no problems whatsoever," said Owen. "I would be surprised if it was something of that nature [a falling-out], but the decision to leave him out isn't going to help if it is that."
If Rooney was to leave United, Owen believes the options open to him are limited.
"Sometimes when you're at the level he is at you don't have many options," said Owen. "If you are a mediocre player you have 20 teams in England and abroad that you can move to.
"If Wayne Rooney moves, where does he go to? Real Madrid, Barcelona, Bayern Munich, Manchester City, Chelsea and PSG, there's only half a dozen teams.
"It's just speculation though. He's been dropped for one game and I'm sure he will bounce back.
"Obviously Wayne has got to get his head down now and start recapturing his best form. He's certainly got the right attitude and ability to get back into the manager's thoughts."