Turkish FA insists referee Cuneyt Cakir has not given any interview over Nani red card
The Turkish FA insists referee Cuneyt Cakir has not given any interview defending his decision to send off Nani.
Last Updated: 08/03/13 5:25pm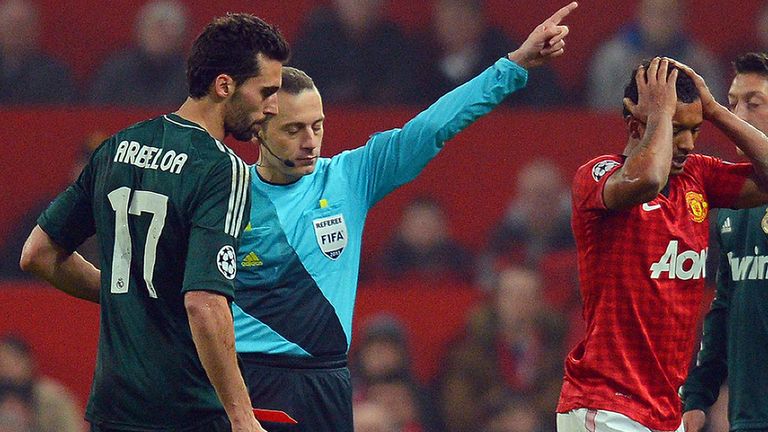 Cuneyt Cakir, who was in charge of Tuesday's Champions League match against Real Madrid, was quoted in the Spanish press claiming he had made the right decision.
But a statement on the Turkish FA's website read: "After refereeing the UEFA Champions League match Manchester United v Real Madrid, in some social media sites, local and foreign press it is mentioned that there are interviews with and comments made by Cuneyt Cakir and that he is receiving death threats.
"Our referee Cuneyt Cakir has not given any interviews to journalists because of the (UEFA) rules, and also does not have any accounts on Facebook, twitter, etc."
The Turkish FA's announcement comes after Spanish newspaper AS ran a story that claimed Cakir had defended his actions in the last-16's second leg.
"I feel well and I don't doubt my decisions," AS reported Cakir as saying. "The red card to Nani was correct. People will see that is the case in time."
Meanwhile, United manager Sir Alex Ferguson was still upset over the red card to the Portuguese and referred to Paul Scholes' disallowed goal against Porto in 2004 and Rafael's red card against Bayern Munich in 2010 for other examples of poor decisions.
"It's hard to keep your faith when you see what's happened in the last few years," he said. "It's the third time we've been knocked out by a referee's decision and it's not easy to take.
"I was concerned before the game. I said that to my staff. I had a big worry about it. But it's gone now. We have to get on with it."