Manchester United midfielder Michael Carrick would sette for dull 1-0 win in FA Cup replay
Michael Carrick admits he would happily take a 1-0 victory when Manchester United face Chelsea in their FA Cup replay.
Last Updated: 11/03/13 3:51pm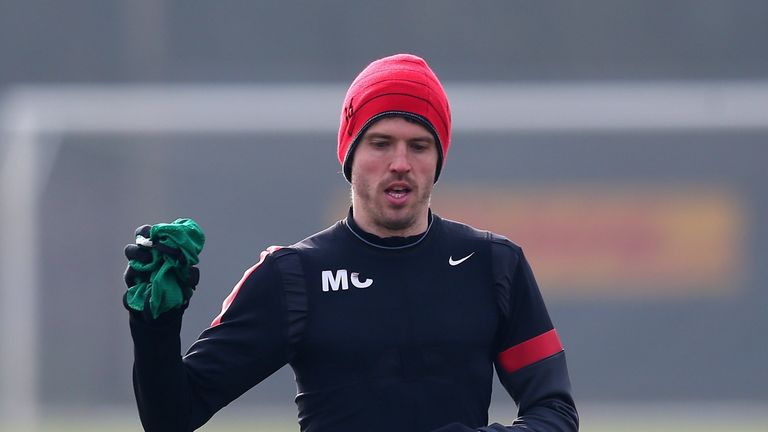 The two sides played out a 2-2 draw at Old Trafford on Sunday, with the visitors battling back from two-down after 11 minutes to take the tie to a second game.
No date has yet been set for that contest, with fixture congestion making the planning of a rematch an administrative nightmare.
The last five meetings between the sides have produced 28 goals, with Chelsea losing 3-2 at home to United in the Premier League on 28 October.
They gained revenge three days later with a 5-4 Capital One Cup victory after extra-time at Stamford Bridge, while another dramatic league clash last season saw Sir Alex Ferguson's side battle back from three goals down to draw 3-3.
But Carrick would settle for a more sedate affair when the replay finally takes place.
"There have been quite a few goals in the games between us recently, I am not quite sure why," he said.
"It is exciting to watch. It is not so exciting to play in. I would take 1-0 all day."
Carrick conceded United may have been jaded after a draining Champions League match with Real Madrid in midweek but he insisted that was no excuse for how they allowed Chelsea to come back into the game.
"It has been a tough week but that is not an excuse," he added.
"We are used to playing big games at this stage of the season. We want to be playing more because it would mean we had got through.
"We got off to a good start but we just couldn't see it out."
David de Gea made a crucial save with his feet late in the game to deny Juan Mata a winner and Carrick was keen to offer praise to a player who has been vilified during the course of the campaign.
"That save at the end was massive, without that we could have been out," said Carrick.
"They are the saves that keepers need to make but fair play to David. He didn't have an awful lot to do in general play but it was a terrific effort.
"As a goalkeeper you can't let these things (criticism) get to you. If you make a mistake people are all over you. That is just how it is.
"You have to take the rough with the smooth. He is well aware of that."