England's Wilfried Zaha looking forward to European Under 21 Championship
Wilfried Zaha feels this summer's European U21 Championship is a chance to disprove suggestions he is 'over-rated'.
Last Updated: 23/03/13 12:28pm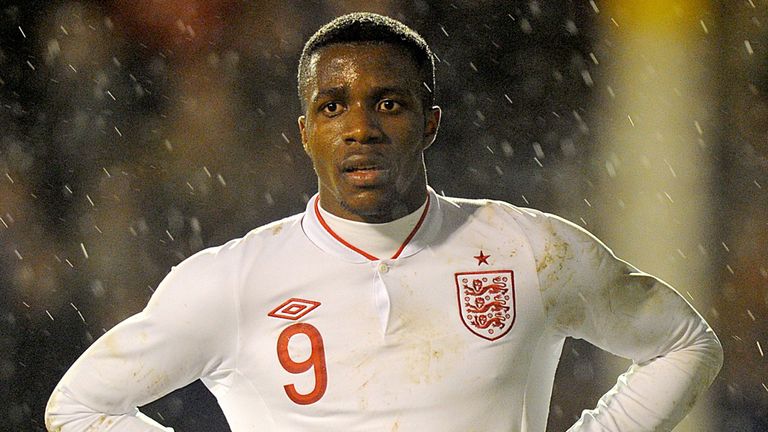 The Crystal Palace winger has enjoyed an impressive season after earning a move to Manchester United and making his senior England debut after a late substitute appearance against Sweden in November.
However, he remains an integral player for England's Under 21s and scored an excellent goal in Thursday's 3-0 win over Romania when he was deployed as a striker.
Zaha is excited by the tournament in Israel, saying: "For all the good stuff I hear (being said) about me, there are many that say I'm over-rated. So this is going to be a great chance for me to show what I'm all about and why I have got to where I am now.
"I know it will be a crazy experience for me out there (in Israel) so I'm looking forward to it. I do feel the pressure and the hardest thing about being a footballer is (how) to cope with it. I just get my head down and say to myself I'm there for a reason.
"Every time I go on the pitch I have to prove myself. I don't know how I deal with it. I just keep my head down and try to cope with it. It has been a dream being involved in the international set-up. My first goal was just to get involved with the Under 21s."
The 20-year-old is tipped to be an England regular in the future, but Zaha feels it will take time before he feels settled playing alongside the more established names.
He added: "The difference between playing for the two teams is that I was more star struck when I'm playing with the senior England players. Playing with the likes of Steven Gerrard was ridiculous. His passing range was unbelievable.
"I don't think I'll get used to it for a long time. To actually play with them and to be called up with them, wearing the England shirt, I'm not sure I will ever get used to it.
"I'm going to have to try and get used to it and go and play my own game. It doesn't bother me or keep me awake at night. It's just football and that's what I have to do. But it is also enjoyable playing with the Under 21s as we can have a good laugh and we're playing well together.
"It will be more practice for me this summer for when I go into pre-season training with Manchester United. It's a chance for me to better myself in different ways on a big stage. The team is bonding well together and we're playing well so we're looking forward to the tournament."