Chris Smalling enjoying life with England and keen to keep his place at the back
Chris Smalling is keen to cement a place in England's side and would love to be involved against Montenegro on Tuesday.
Last Updated: 27/03/13 9:45am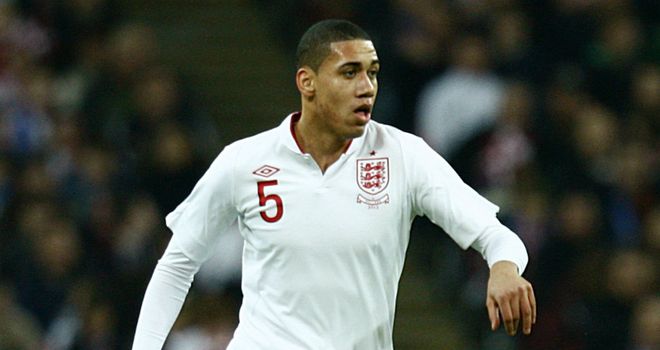 Manchester United defender Smalling had a quiet night against San Marino on Friday, when he partnered Joleon Lescott against next to no opposition, and he hopes he will keep his place in Podgorica in a far tougher assignment.
Smalling has been plagued by injuries since signing for United, and this season has proved a stop-start one as well, but he feels he is ready for a long run for club and country.
"It has been a frustrating season. My season didn't get started until mid November with injuries," Smalling said. "It was the second last game of the season against Swansea when I felt my groin and it ruled me out of the summer (Euro 2012).
"I came back for pre-season raring and ready to go and then my foot went so I didn't get going until mid November.
"But I've always been ready the last couple of months, I've stayed fit, and just hope to stay fit until the end of the season and keep picking up games. It's not been the ideal season. It's not been a great season but I just hope next season I can stay injury fit and play more games.
"I've been feeling good and hopefully I can finish the season strong and have a good pre-season because I didn't have a full one last summer."
"Am I conscious a position is up for grabs? Definitely. There were a few pull-outs for the San Marino game but it gives the people here an opportunity.
"I definitely see myself as having a chance with the more games I can get. If I can get on a little run, the position is more like your own.
"It's also great to have someone who has confidence in you, Alex Ferguson at United and Roy Hodgson with England, and it gives you confidence. It gives me a bit of faith to go out there and just play the game."
"I take each chance that I can get and the bigger the game, the better for me. I'll be ready if I'm selected on Tuesday. We see their results so we know it's going to be a close one and Tuesday is a massive game.
"Away games like this can be very intimidating and, if you get the crowd onside, it's like they got an extra man. So if we stay level headed and try and keep the crowd quiet, then it will be to our advantage. This is the big one of the season against a team which is arguably fighting for top spot with us."