Manchester United's Robin van Persie hints he may end his career at Old Trafford
Manchester United striker Robin van Persie has hinted he may end his career at Old Trafford.
Last Updated: 27/03/13 6:29pm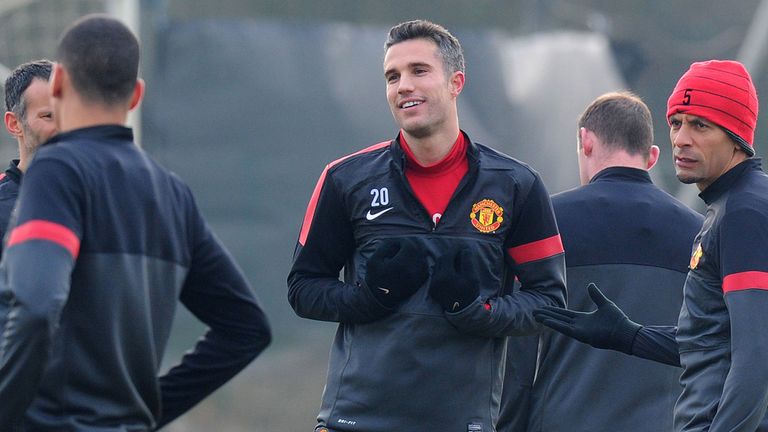 The 29-year-old says Sir Alex Ferguson's proven track record in getting the best out of older players such as 39-year-old Ryan Giggs and Paul Scholes (38) may keep him at the champions-elect.
Van Persie told Dutch magazine Voetbal International: "For the next few years I will be at Manchester United - and maybe longer. United could be my last club.
"You have a number of clubs in Europe where older players can find it good, where they are valued. You used to have that at Juventus and AC Milan, Manchester United today is a good example. So who knows how long I will stay at the club.
"There is a new challenge for me every day at United. My development is an ongoing process. That gets an extra boost when you are surrounded by new coaches and team-mates, all with their own ideas, in a totally new environment."
"Rene's (Rene Meulensteen, Manchester United's first-team coach) training is always designed with a view to the next opponent.
"Every week we are prepared for the specific playing style of the opponent, we must each play to deal with a style. That is our strength. We have our own qualities and we know in detail where the weak points of the opponent are."
For his part, Giggs believes he will soon be one of several over-40s playing football at the top level in England.
The veteran Welshman - English football's most decorated player - believes advances in sports science make it easier for players to prolong their careers if they retain the desire keep playing.
"With the involvement of sports science, players are looking after themselves more - and the facilities are so much better," Giggs said.
"So if they want to, and if they have the desire, players can go on a lot longer than they used to."