Gary Neville says Manchester United rubber-stamped the title at Sunderland
Gary Neville told Sky Sports that there is no catching United after their 1-0 win at Sunderland.
Last Updated: 01/04/13 8:26am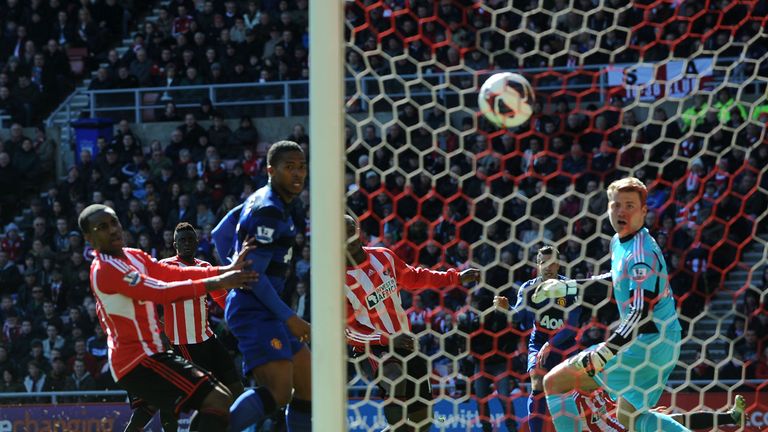 The game was decided by a deflected Robin van Persie effort in the first half - the Dutchman's cross-shot spinning up off the outstretched thigh of Black Cats defender Titus Bramble and into the net.
The Stadium of Light was heartened by an improved second half performance from the hosts, but the United rearguard held firm with the likes of David De Gea, Nemanja Vidic and Chris Smalling producing some solid defending.
Ultimately, Martin O'Neill's men failed to snare their equaliser, and Sir Alex Ferguson's visitors moved some 15 points clear of their closest pursuers - city rivals and defending champions Manchester City.
Neville told Sky Sports of the title race: "It's done. It was done a couple of weeks ago, I think. It's just a matter of time and how quickly they can do it, whether they can beat City a week on Monday.
"Today was important for them. In the second half they were fantastic defensively. David De Gea's punch, Chris Smalling's header, headers from Nemanja Vidic and Johnny Evans - they were four chances of Sunderland pressure that were dealt with. They're seeing games out comfortably at the moment.
"In the second half, Sunderland did simple things. We know it's going to be difficult but we expected people would run forward and close people down. In the first period, Sunderland sat off United and let them play.
"For the goal, it's tough to blame Titus Bramble. He sticks his leg out. It wasn't brilliant but he's unfortunate. You can't allow Robin van Persie to be one-on-one with Phil Bardsley driving into the box like that. Stephane Sessegnon should have sprinted back."
Improvement
Niall Quinn, a former Sunderland player and chairman, focused on the positives after the match - the home team applying pressure to United and forcing De Gea into producing his best with some testing crosses.
The ex-Republic of Ireland target man said: "Sunderland will be looking at it and saying it's not the worst result on paper but there are two ways to look at it - looking at how good United are and how they played when we stood off them and let them play, but look at how we got at them in the second half. We caused them untold problems.
"The crowd got really up for it because of the second half performance and it wasn't as easy as Manchester United had it in the first half. The key to Sunderland going forward here is to look at how they went against a top team, making it uncomfortable. I don't know what Martin O'Neill said to them at half time but it made them more aggressive.
"O'Neill will be pleased. There's a silver lining in that performance today for me, and that was that they showed themselves and the fans that when they play with pace, they can do it - even against Manchester United."