Nemanja Vidic hopes this season will bring a first FA Cup success for him
Man Utd captain Nemanja Vidic would love to end his FA Cup hoodoo by lifting the trophy for the first time this season.
Last Updated: 01/04/13 12:17pm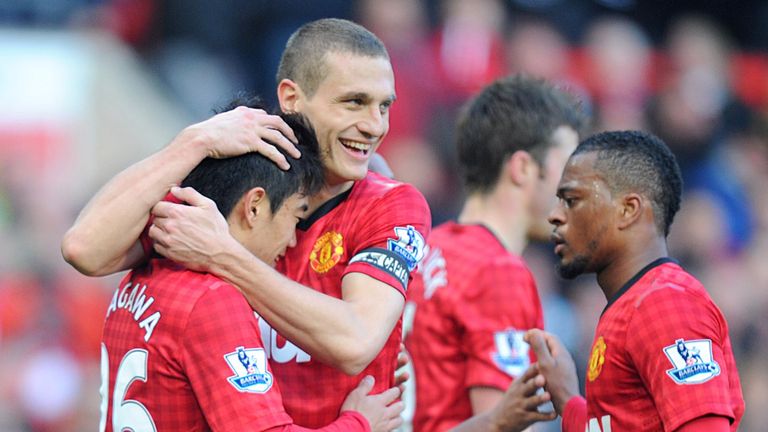 Vidic has tasted success in all of the other major competitions United have taken part in but the FA Cup has seen a series of near-misses, including a final defeat by Chelsea, who United face in a quarter-final replay on Monday, in his first season.
Further Wembley frustrations have occurred in semi-final losses to Everton and Manchester City but victory this season would almost certainly complete a double with the Premier League just about in the bag.
Vidic said: "My aim before every season is to win a trophy.
"You want to be there for the big games and once the season is finished, and you are going home or on holiday, you want to see what you have won. That is the thing that has always pushed me.
"The cup in Serbia is obviously a trophy but the league has always been seen as the main thing.
"Over the last few years in England the semi-finals and finals have always been interesting because Chelsea, Manchester United, Manchester City and Arsenal have always been there and they are the teams who are always watched.
"People always want to see them, especially when they are fighting for a trophy. It makes them important games."
The prize for the victors at Stamford Bridge is a Wembley date with Manchester City, and for United it would mean back-to-back games against their fierce rivals, who they face in the league on 8 April.
"I would prefer to have a semi-final against Blackpool," added Vidic. "I want to win the trophy. That is more important than who we play against.
"Obviously City are in the semi-final. That would mean one more step towards a trophy. But first it is Chelsea."