Sir Bobby Charlton won't consider when Sir Alex Ferguson may retire
Sir Bobby Charlton is refusing to even consider when Sir Alex Ferguson will step down as Manchester United manager.
Last Updated: 23/04/13 5:22pm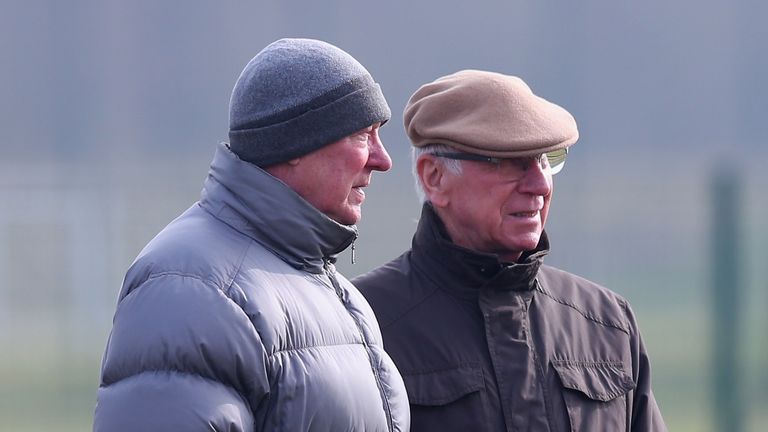 United's 3-0 victory over Aston Villa on Monday night sealed the club's 20th league title and Ferguson's 13th during his 26-year tenure at Old Trafford.
The Scotsman may be 71 but despite having flirted with the idea of retirement in the past, he shows no sign of letting up.
"He never talks about it and I wouldn't deem to talk about it myself, really. What I want is for it to continue the way it is at the moment," said Charlton.
"But we all get older and Alex will get older, the decision will be made and it will be a sensational performance because he has a great talent for winning.
"He wants to win and I think some of the newspapers would love to find out what Alex is going to do with his future. But I can't help you, because I don't know.
"I don't ask any questions, either, just in case I trigger something!
"But he's been marvellous and everything that Manchester United wanted. He's been a major success and is the greatest manager there's ever been. It's unquestioned.
"But if you wanted to find out when he's going to change and have someone else in command, the only person who will ever give you a proper answer is Alex."
Charlton also attempted to sum up why Ferguson has been such a success as United manager.
"He is such a motivator and he's in control totally of his squad," added Charlton.
"I'm happy just to say 'on you go, Al, you just do it the way you've always done it'.
"It shows in the performances and the goals that we're scoring. We have lots and lots of goalscorers now and most of them are pretty young, so the future looks pretty good.
"He reads the game and knows the game. He finds that young players are really important in the future of the club.
"Then when you've got someone like Robin van Persie, at 29, he has been a success. Alex wants the younger players who come through to be that successful too.
"How he does it is a question of talent that only Alex can answer. He knows everything about the game."