Manchester United already looking towards next season, says Michael Carrick
Michael Carrick says there is no chance that Manchester United's desire for titles will fade.
Last Updated: 23/04/13 11:10pm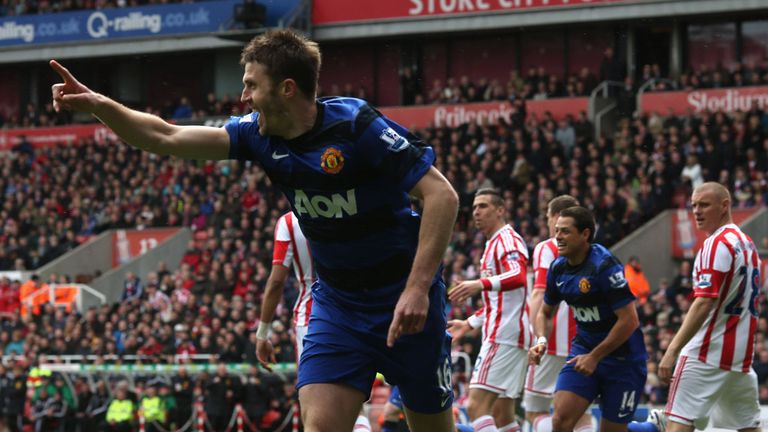 United ensured they will top the table with a 3-0 win over Aston Villa on Monday but will have to wait until after their game with Swansea on 12 May before they can lift the trophy.
But Carrick, who has enjoyed a fine season at the heart of the United midfield, says the team are already looking towards the 2013/14 campaign.
"I definitely want more," said Carrick.
"The season is not over yet, we haven't even got the trophy, but, when we come back next year, we will be as hungry as ever.
"I said before I came here that, if I won a league, that would have meant everything to me.
"Strange as it seemed, as soon as I won that first title, it left me hungry for more.
"The satisfaction of winning is such a good feeling you want it again and again, and you get hungrier to win it again."
Desire
And Carrick says manager Sir Alex Ferguson instils this relentless desire for success in the United squad.
"The manager drives that attitude and it rubs off on the players," said Carrick.
"To be honest, it happens quite quickly. If it doesn't, you are not going to be successful here.
"When I arrived, I tried to copy the example of the senior players. As I get older, I try to set an example for the younger boys."
United lost out on goal difference to neighbours Manchester City in the title race last season and Carrick added: "It hurt and it wasn't pleasant but pretty much straightaway we started thinking about next year.
"It was said in the dressing room 'remember this feeling'. Even coming to the end of this season, we had a decent gap, but we didn't want to let it slip because we know what last year felt like.
"There are not many teams who could have come back from that. It was our local rivals, our big rivals. That did make it harder.
"But we got out on the pitch and started playing well, because we were determined to get back on top.
"I am proud of being part of that. The character of the lads is incredible."