Arsenal to form guard of honour for Robin van Persie and Manchester United
Arsenal will form a guard of honour for old boy Robin van Persie and his title-winning Manchester United team-mates.
Last Updated: 28/04/13 3:14pm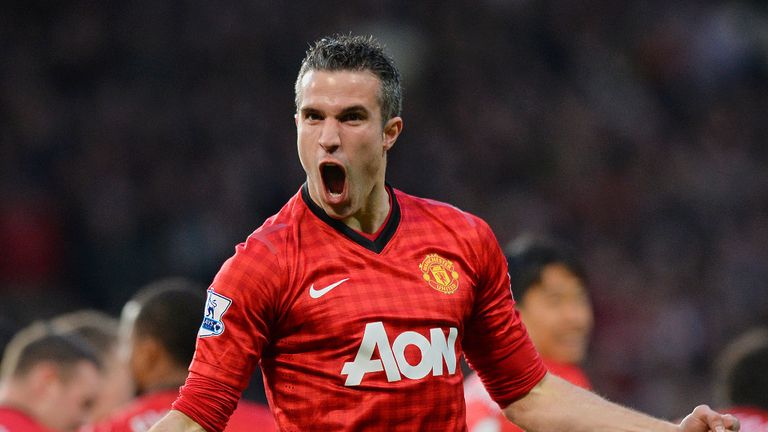 Van Persie, who left Arsenal last year in search of silverware, returns to the Emirates less than a week after his hat-trick against Aston Villa secured the Premier League trophy for Sir Alex Ferguson's side.
The Dutchman will now be clapped onto the pitch in a guard of honour but though the gesture will rile fans still upset about his £22.5m departure, Wenger has called on supporters to show respect to their former talisman.
"I want the traditions of English football to be respected," said Wenger, when asked if his players would form a guard of honour.
"We respect Robin van Persie like every other player who has left and comes back. I want the player to be respected.
"He is a massive talent with world-class technique and huge experience with the national team and in the Champions League. I had no doubt he'd adapt.
"I think Arsenal had a positive impact on the life and career of Robin van Persie.
"You always miss a big player but now we are stabilised. We are on a very strong run. We have a good level of confidence and a great desire.
"What we know is that we will need a great performance to beat Manchester United. That's what we will focus on."
Having lost Van Persie in the summer, Wenger has admitted he is again fearful his Premier League rivals may spend big this year.
Chelsea are expected to appoint a new manager at the end of the season with interim boss Rafa Benitez unlikely to stay on at Stamford Bridge and Blues owner Roman Abramovich is likely to give his new manager substantial funds to bolster the squad.
Wenger is expecting big moves from Chelsea in the transfer market with the likes of Atletico Madrid striker Radamel Falcao strongly linked with a transfer and the Gunners chief fears how strong their London rivals could become with more additions in the summer
"I'm afraid of what Chelsea can do in the summer," the Frenchman told Eurosport.
"We have to be prepared for them to be one of the biggest movers in terms of investment once the window opens.
"Even though they already have a great base to their squad, notably their young players such as Oscar, Juan Mata, Ramires and Eden Hazard, I think they will be busy during the transfer window.
"We've heard a lot of talk about Atletico Madrid striker Radamel Falcao. Some people say it's already a done deal, but I've heard nothing."