Manchester United striker Robin van Persie wants to win more trophies
Robin van Persie is eager to win every trophy going after securing the title in his first season at Manchester United.
Last Updated: 28/04/13 10:39am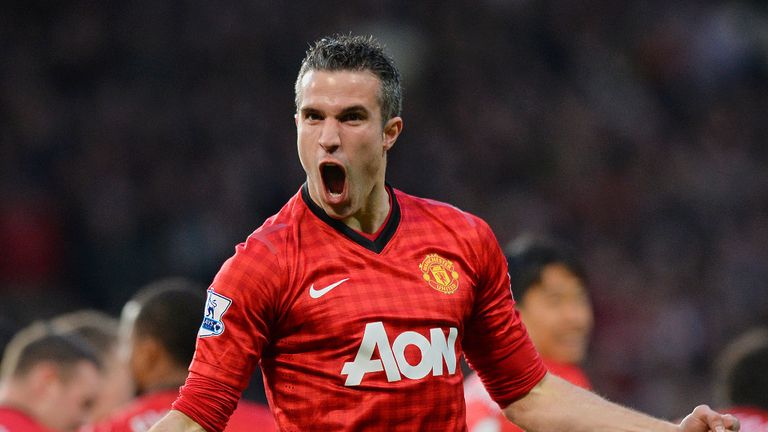 The Dutch striker left Arsenal for Old Trafford last summer in search of silverware and has been an integral figure in United reclaiming the top-flight crown.
The 29-year-old is hungry for more medals and he is hoping that next season will result in further success for both United and the Netherlands.
"Quite simply, I now want to win as much as possible," Van Persie told The Sun Sunday. "Now I've won one big prize I'm even more eager to win more, even more eager to win it all.
"Next season I have the Premier League, FA Cup, Champions League, Capital One Cup, Community Shield and of course the World Cup to focus on."
Van Persie returns to Arsenal for the first time on Sunday, but he insists his decision to quit for United has been vindicated by the title triumph.
He added: "I've waited a very long time for this. It's what every professional dreams might happen one day.
"That's why I sacrificed so much to come here. I chased a dream and I'm so happy the dream has now been fulfilled.
"I still can't believe it. It's just an incredible feeling. It is also a massive relief. After all this time, to be lucky enough to win a title in one of the hardest leagues in the world.
"My move to Manchester United was all about timing. We met each other at exactly the right time.
"They were so eager to win the Premier League title back. And I was so eager to win the league for the first time."
Meanwhile, Van Persie is not concerned by the threat of increased competition next season after United were linked with moves for the likes of Borussia Dortmund striker Robert Lewandowski and Atletico Madrid forward Radamel Falcao.
"The more quality players we bring the better. And even more fun," he said. "The manager knows what is good for the team."