Sir Alex Ferguson respects Rafa Benitez for turning Chelsea's form around
Sir Alex Ferguson praises Rafa Benitez for turning Chelsea's form around and getting the club's fans off his back.
Last Updated: 05/05/13 3:19pm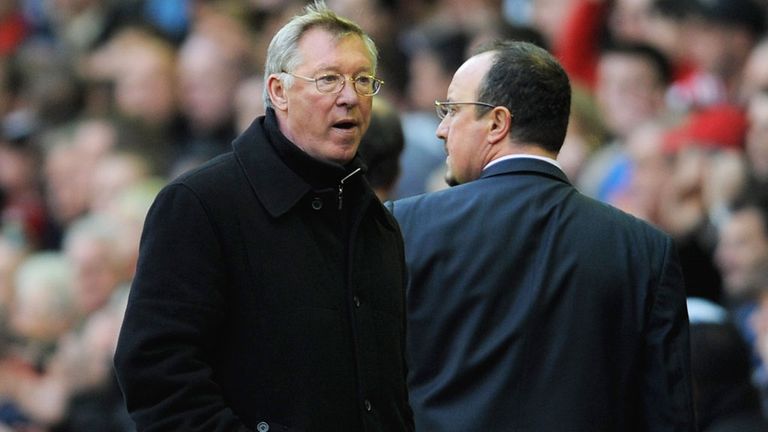 The Blues won three of their four games in April, enough for Benitez to be named Premier League Manager of the Month, and they visit Old Trafford on Sunday looking to further improve their hopes of a top-four finish.
Although Ferguson could not resist a small dig at the expense of the Spaniard, an old rival from his days with Liverpool, he conceded that the job he has done under extreme pressure has been a solid one.
"He is very concerned about his CV," Ferguson said. "He refers to it quite a lot. But you can't dispute the fact he has done a good job in the last few weeks.
"The key to it is that the fans have settled down a little bit. They have left him alone and he has got on with managing his job. It can't be easy, listening to pressure from the fans all the time.
"They have eased up. It has allowed him to relax and they have produced some good results.
"When they sacked Roberto Di Matteo that maybe knocked them back a bit. It took them a long time to get going again. It's only been in the last few weeks that they've got any consistency and this has been the best part of their season.
"Their next two games are crucial. I would imagine they'd be thinking they need to get something out of our game because Spurs is never an easy game. They will be fresh and Chelsea will have played Thursday, Sunday, Wednesday."
Ferguson is keen for his players to retain their focus to the end of the season but says a threat to call off their trip to Chester races in the week, if they lose to Chelsea, should be taken with a pinch of salt.
"I never took into account all the things that are happening like the PFA awards, our own Player of the Year awards and the trophy parade," he added.
"When Nemanja Vidic came to me last week and asked if the team could go to Chester races on Wednesday, I said yes.
"But then you put all these things together and you say to yourself: 'bloody hell, I hope they don't forget there's a game of football to be played!' If they don't win on Sunday we could be cancelling the races."