FA chairman David Bernstein hails 'truly remarkable' Sir Alex Ferguson
FA chairman David Bernstein has paid tribute to the "remarkable" Sir Alex Ferguson.
Last Updated: 08/05/13 6:24pm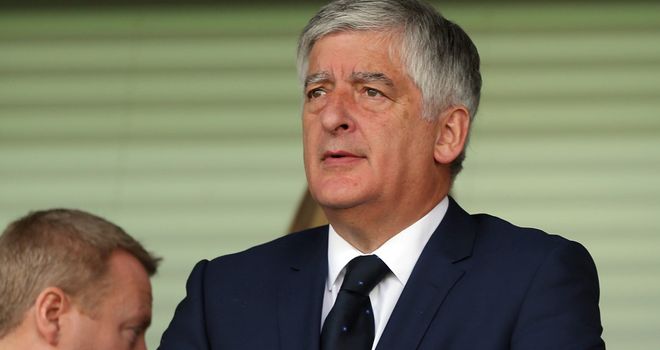 Ferguson announced on Wednesday that he was retiring at the end of the season, bringing to an end a silverware-laden 26 years at Old Trafford.
Since taking charge in 1986, Ferguson has won 38 trophies, including 13 Premier League titles, two Champions League titles and five FA Cups.
"Sir Alex Ferguson's achievements are truly remarkable - he is genuinely one of the greatest managers of all time and certainly of the modern era," Bernstein, who himself will step down this summer, said.
"His contribution to English football has been outstanding in every regard and, in The FA's 150th year, it is something that should be celebrated.
"On behalf of The FA I'd like to wish him a happy and healthy retirement."
England manager Roy Hodgson added: "The unexpected news that Sir Alex Ferguson has decided to retire marks the end of an era in football management.
"No one will be able to match his achievements, his dedication, his support for colleagues in need and his team building know-how.
"This is a sad day for English football. I personally wish him a happy and successful retirement."
Sports Ministers Hugh Robertson swiftly paid tribute to the 71-year-old, saying: "Sir Alex Ferguson is one of the greatest British managers of all time and has been an incredible servant to Manchester United, bringing the club unprecedented success domestically and in Europe.
"His enthusiasm for our national game is boundless and I congratulate him on a remarkable managerial career.''
FIFA president Sepp Blatter posted his tribute on Twitter, writing: "His achievements in the game place him without doubt as one of the 'greats' ... will his longevity at the top ever be repeated?"
UEFA president Michel Platini, meanwhile, described Ferguson as "a true visionary" far beyond his long-time stomping ground.
"Sir Alex has made a massive contribution to football, not only in Scotland and in England, but across Europe and beyond," Platini said.
"His dedication, his attention to detail and his unique eye for talent, as both the manager of Manchester United FC and Aberdeen FC, has brought rich rewards over a 30-year period.
"His CV is almost unique in a results-based profession that normally focuses on short-term solutions rather than long-term vision.
"He is a true visionary and I hope that, having helped us in the past through various coaching initiatives, he will continue to collaborate with UEFA to share his fantastic knowledge with the next generation of up-and-coming European coaches who all wish to emulate his achievements in the sport."