David Beckham hails Sir Alex Ferguson as the greatest manager in football
David Beckham has hailed "father figure" Sir Alex Ferguson as the greatest manager in football.
Last Updated: 09/05/13 11:15am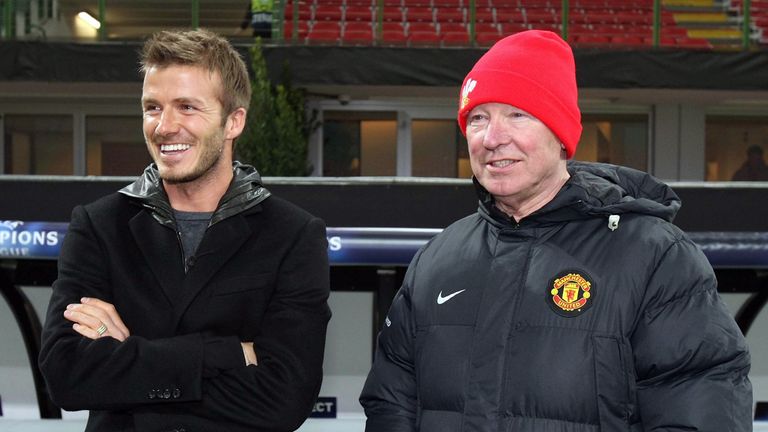 The former Manchester United midfielder, who spent a decade under Ferguson at Old Trafford, said he would not have achieved such success without the 71-year-old's influence.
Beckham said: "As I have said many times before the boss wasn't just the greatest and best manager I ever played under he was also a father figure to me from the moment I arrived at the club at the age of 11 until the day I left.
"Without him I would never have achieved what I have done in my career. He understood how important it was to play for your country and he knew how much it meant to me.
"After '98 without the manager I would have found it virtually impossible to cope with the attention I was getting on and off the field and for this I will always be grateful to him for his support and protection.
"I am truly honoured to have been guided by the greatest manager in football and to have had the career that I had under him.
"Thank you boss and enjoy the rest!"
Ole Gunnar Solskjaer, who spent 11 years at United, also praised his former boss following the announcement.
Speaking to MUTV, the former United forward said: "I'm a bit stunned that the manager has decided that enough is enough, but I'm sure he thought long and hard about it and it's the right decision for him.
"The 14 and a half years I spent with the boss [as a player and coach] were the greatest of my career. I learnt from the best.
"He was a father figure for all of us - it's amazing how many players he has brought through the system. He has been an inspiration to everyone.
"Everything I do now as a manager is through the experience I gained from working with the boss."