Sir Alex Ferguson: Time right to end Manchester United managerial career
Sir Alex Ferguson insists the time is right to end his managerial career after deciding to stand down.
Last Updated: 08/05/13 7:12pm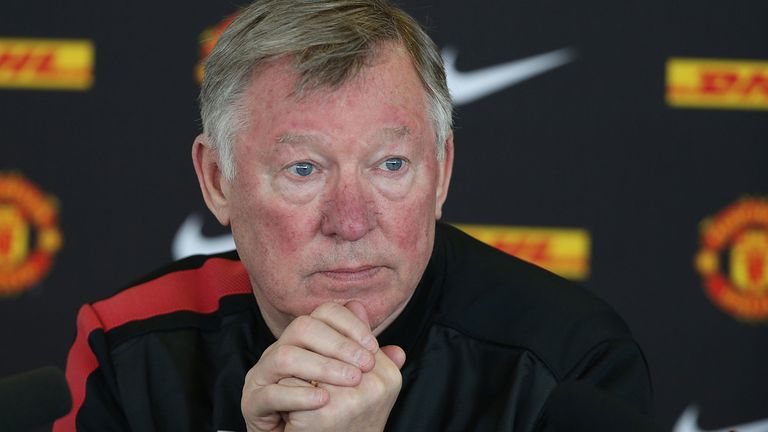 After almost 27 years in the Old Trafford hotseat, Ferguson will say farewell to the United faithful when the Premier League trophy is presented after Sunday's encounter with Swansea.
Twenty-four hours after that he will address the crowd at United's trophy parade into the centre of Manchester, which is now certain to attract enormous crowds, before finally bowing out after his 1500th game as Red Devils boss, at West Brom on May 19.
After 38 trophies at Old Trafford and so many memories, the 71-year-old is adamant he is right to bow out now.
"The decision to retire is one that I have thought a great deal about and one that I have not taken lightly," he said. "It is the right time."
As long ago as last summer, Wigan chairman Dave Whelan claimed the United manager would stand down at the end of this season as a direct consequence of the health scare he suffered 12 months ago when he was rushed to hospital to stem nose bleeds caused by an excess number of short flights.
Ferguson did curb his travel to some extent, although he did head to Glasgow on Monday for the legends game between United and Rangers at Ibrox.
However, having already had a pacemaker fitted in 2004, Ferguson had to take further notice of his health when he was informed surgery was required to cure a hip complaint.
So, in assessing a squad good enough to win the title with four games to spare and was unfortunate to get knocked out of the Champions League by Real Madrid, Ferguson concluded they were in good enough shape for him to leave behind with Everton boss David Moyes the favourite to take over at Old Trafford.
"It was important to me to leave an organisation in the strongest possible shape and I believe I have done so," said Ferguson.
"The quality of this league-winning squad, and the balance of ages within it, bodes well for continued success at the highest level whilst the structure of the youth set-up will ensure that the long-term future of the club remains a bright one."
Crucially, Ferguson has confidence in the man who will replace him, unlike in 2002 when he feared his work was about to get wrecked by Sven Goran Eriksson.
In agreeing to remain as a director and club ambassador, the 71-year-old is retaining a link to Old Trafford which many view as being crucial to the potential success of the man who coming in given what a terrifyingly tough act he has to follow.
But, after years of insisting his health would be the determining factor in how long he carries on for, and having thought about it on a couple of occasions in recent years without making the decisive move, Ferguson has decided to put his family first.
"My wife Cathy has been the key figure throughout my career," he said. "She has provided a bedrock of both stability and encouragement. Words are not enough to express what this has meant to me.
"As for my players and staff, past and present, I would like to thank them all for a staggering level of professional conduct and dedication that has helped to deliver so many memorable triumphs.
"Without their contribution the history of this great club would not be as rich."
Ferguson also has reason to give thanks to the people running the club, in particular Sir Bobby Charlton, whose calming influence prevented United sacking the Scot in 1989.
And whilst chief executive David Gill remains the executive he has worked closest with for so long, Ferguson retains faith in the Glazer family, whom he has endured such criticism for defending.
"In my early years, the backing of the board, and Sir Bobby Charlton in particular, gave me the confidence and time to build a football club, rather than just a football team," he said.
"Over the past decade, the Glazer family have provided me with the platform to manage Manchester United to the best of my ability."
Gill has outlined the qualities needed to succeed Ferguson as manager amid growing expectation that Moyes will be confirmed as the new man in charge by the end of this week.
"The qualities are the ones that have been inherent at Manchester United for many years," Gill told MUTV.
"Our two most successful eras were with managers who got involved with all aspects of the club, from the youth team to the first team, to get that degree of loyalty and understanding of the football club.
"Clearly he has to have the requisite football experience, both in terms of domestic and European experience. It is a small pool."
Since the announcement came of Ferguson's decision to retire, tributes have been pouring in with David Beckham calling him his "father figure".
Beckham, now at Paris St Germain, said Ferguson's protective influence had been vital in his early career.
The former England captain said on his Facebook page: "As I have said many times before the boss wasn't just the greatest and best manager I ever played under he was also a father figure to me from the moment I arrived at the club at the age of 11 until the day I left.
"Without him I would never have achieved what I have done in my career. He understood how important it was to play for your country and he knew how much it meant to me.
"After '98 without the manager I would have found it virtually impossible to cope with the attention I was getting on and off the field and for this I will always be grateful to him for his support and protection.
"I am truly honoured to have been guided by the greatest manager in football and to have had the career that I had under him. Thank you boss and enjoy the rest!"
Sir Bobby Charlton also added his tribute to the "fantastic" and "sensational" Ferguson.
"He is such a fantastic manager. Everything he has done has been fantastic," said Charlton.
"He is a sensational person in every form and I am really delighted for him. I am a director but I hardly do anything because we are winning all the time and it is all down to Sir Alex Ferguson.
"He would get up in the middle of the night and travel 300 miles if he thought there was a school boy that he could sign.
"He loves the game and we at the club have had nothing to do really."
Mark Hughes, who played under Ferguson over two spells at Old Trafford, admitted he was initially shocked to hear the news but added: "As the hours have gone on you would probably say the timing is right for Sir Alex and United.
"They've had a great season, they've won the title and particularly bearing in mind that they have wrenched the Premier League crown from City which was mightily important for Sir Alex."
Moyes is the current favourite to step into Ferguson's shoes and choosing the next man is an action Hughes doesn't envy anybody having to make.
"It's a big decision for United," added Hughes, still out of work since being sacked as QPR boss in November.
"It's something they knew would happen one day and you'd imagine given the size of the club and financial implications of a change in management that their succession plans will be in place and things will probably now progress quickly."