Rio Ferdinand and Michael Carrick welcome David Moyes to Manchester United
Manchester United duo Rio Ferdinand and Michael Carrick have welcomed the appointment of David Moyes at Old Trafford.
Last Updated: 10/05/13 8:12am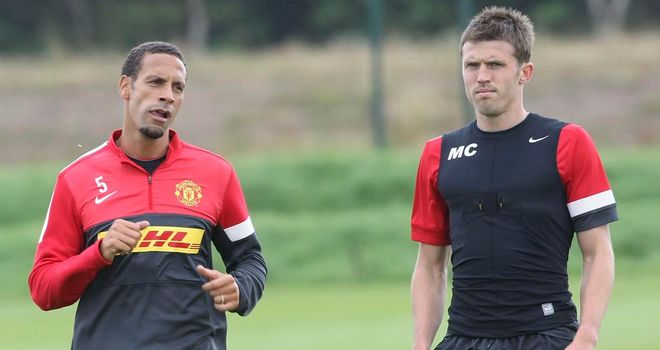 After Sir Alex Ferguson confirmed his retirement following 26 years in charge, the Premier League club announced that Moyes would be his successor on Thursday.
And the early reaction from within the dressing room suggests that the players view the Everton boss, who will take up his new post on July 1, as the ideal man for the job.
Ferdinand, who has played under Ferguson for over a decade at Old Trafford, said: "It was important the club made a decision quickly and got it all sorted before people could start making rumours.
"The club have acted impeccably in that respect.
"It's great to see the new manager coming in, we've never had a problem with him here at United, he's a very honest man from the players you speak to and he's done a fantastic job at his previous club Everton.
"I'm sure he'll be very, very open and sympathetic to the traditions of the club and try and continue that and not come in and try and make crazy changes in terms of the whole characteristics of the club."
United and England midfielder Carrick has also been impressed by Moyes' work at Everton and is eagerly awaiting the start of a new era.
"He's done a terrific job at Everton," he said.
"He's been there a long time and has had great success with the resources he's had. It's obviously a big change because this club's been run for so long by one person.
"I'm really looking forward to meeting him and getting good training in pre-season and looking forward to a good future.
"He's honest and fair to his players as far as I'm aware. He sets high standards just as he expects high standards of ourselves."
Moyes, who admits "it is a great honour to be asked to be the next manager of Manchester United" is a 'perfect fit' for the club, according to former strikers Dwight Yorke and Andrew Cole.
Yorke told The Footballers' Football Show: "When you look at all of the managers who are out there at this point in time, he fits the role perfectly.
"He's a very experienced man who has been at Everton for 10 years or so; he's had a very limited amount of money to spend but has managed to get the best out of his players.
"He's a loyal man - he's a family man; he's got all of the ingredients. He is certainly a football person.
"Only time will tell if he is the right man for the job, but I do believe that he is the right appointment at this stage."
Cole echoed that view and said that Moyes can look forward to having the full support of the board and fans alike - and have the necessary financial backing he needs to strengthen the squad as he sees fit.
"He fits the Manchester United mould, put it that way. He's had a great career at Everton as a manager despite having limited resources. But the good thing is that he will go to Manchester United and he will be backed, just as Sir Alex Ferguson was backed when it comes to transfer funds.
"He's going to take over a well-oiled machine that is very used to winning. If you look at his track record at Everton he's done very well and I think he will go in there and do what he needs to do to keep Manchester United winning."
Everton chairman Bill Kenwright, who took Moyes to Goodison Park from Preston North End in March 2002, is understandably disappointed to be losing a coach who has offered so much to his club over the past decade, and admits he faces a tough task in finding a suitable replacement.
He told Sky Sports News HD: "He's a great manager and Manchester United are very lucky. It will be tough for all Evertonians to say goodbye to him, he's a great manager. Let's be honest, we couldn't stand in his way because he is out of contract. He's out of contract and it was his decision. He's made it.
"We've had a really good 11-year adventure with David and it's my job, and the club's job, to get a worthy successor and build on what David has definitely brought to the football club and hopefully move on from there.