Manchester United manager Sir Alex Ferguson bids emotional farewell to Old Trafford
Manchester United boss Sir Alex Ferguson was an emotional man after beating Swansea 2-1 at Old Trafford.
Last Updated: 12/05/13 8:37pm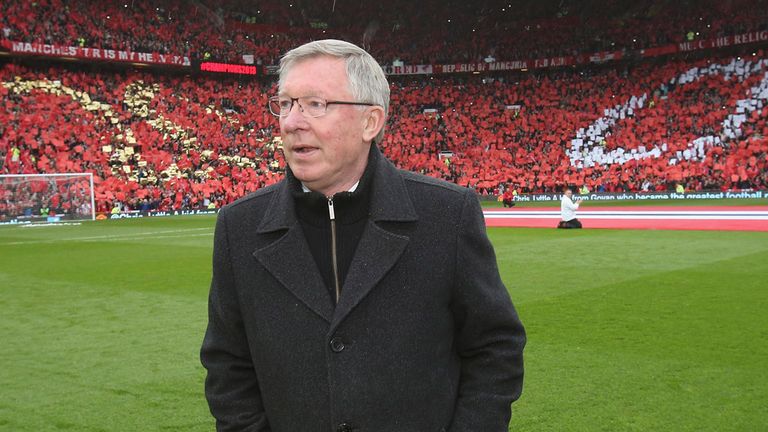 Addressing a stadium packed full of adoring fans after the final whistle, the 71-year-old paid tribute to players, staff and fans alike as he brought the curtain down on a legendary 26 years at the club.
The Scot, who guided United to 38 trophies during his tenure, also urged supporters to get behind new manager David Moyes.
He said: "Before I start bubbling, I just want to pay tribute to Paul Scholes, who retires today. He's one of the greatest players this club has ever had and ever will have. I'd also like to wish Darren Fletcher a speedy comeback to our club.
"I'd like to remind you that when we had bad times here, the club stood by me. The board stood by me, the staff stood by me and the players stood by me. Your job now is to stand by your new manager.
"I'll be able to enjoy watching them rather than suffer with them now. If you think about all the late goals, the setbacks and the good times - it's just been an unbelievable experience so thank you for that.
"I've been very fortunate in being able to manage some of the best players in the country. These players have won a championship in fantastic fashion, so well done to the players.
"It's a thank you to Manchester United. Not just the staff but all of you. You have been the most fantastic experience of my life. Thank you."
Addressing the players directly, Ferguson added: "I wish the players every success. I know how good you are. You know the jersey you are wearing and you know what it means to everyone here. Do not let yourselves down."
Ferguson stunned the world by announcing on Wednesday that he would be bringing his managerial career to a close at the end of the season.
He shed light on the reasons behind his decision after the match with Swansea, admitting he had made his mind up at Christmas.
"Things changed when Cathy's sister died," Ferguson said in a TV interview. "She is isolated a lot now. I owe (Cathy) a lot of my own time. For 47 years, she has been the leader of the family, looked after our three sons, sacrificed herself for me. Now she has all her grandchildren.
"She lost her best friend, her sister Bridget, so that was important. Also, I wanted to go out a winner. That's the most important thing I've wanted to be."
Deserved
Rio Ferdinand, who scored the winning goal against Swansea, heaped praise on Ferguson after the Scot said goodbye to Old Trafford and said it was a fitting send-off.
"To win at Old Trafford, the man's desire to win football matches, to keep bringing success to the football club, he deserves a win in his last home game," said Ferdinand.
"It's obviously a personal thing between the squad and the manager. It's emotional. For us to hear it was devastating but it's a big club and we have to move on. He wants that."
Scholes, who will also be retiring at the end of the season, paid tribute to Ferguson and savoured a special occasion as United were also presented with the Premier League trophy.
He said: It's been a good day. We've won the game and that was all that mattered. It's always nice to pick a trophy up. We'll celebrate tonight and hope that there are more trophies to come for these players."
On Ferguson's post-match speech, the former England playmaker added: "He handled it quite well. You'd have thought it would have been a bit emotional for him but he spoke really well at the end of the game. He's done a fantastic job here. He's just happy now and looking forward."
Fellow veteran Ryan Giggs, who has signed a one-year contract to play on, said: "It's always special. It's a great achievement for this team to be as consistent as we have been this year - especially with what happened last year. Great credit to the manager, the fans and the lads.
"He said 'just play the game and not the occasion.' We wanted to win in his last game and do all the things that we've done over the years since he's been manager.
Robin van Persie claimed it was a "massive honour" to have played even one season for Ferguson.
Even though it was only one year and I haven't worked with him a lot, it has been an unbelievable year and he's made such an impact.
"He's a great manager and an even greater person. The way he is and the way he works with players, he deserves all the credit because he has been amazing."