Rio Ferdinand says he wants to continue at Manchester United
Rio Ferdinand is determined to remain with Manchester United and win medals under new boss David Moyes.
Last Updated: 13/05/13 3:29pm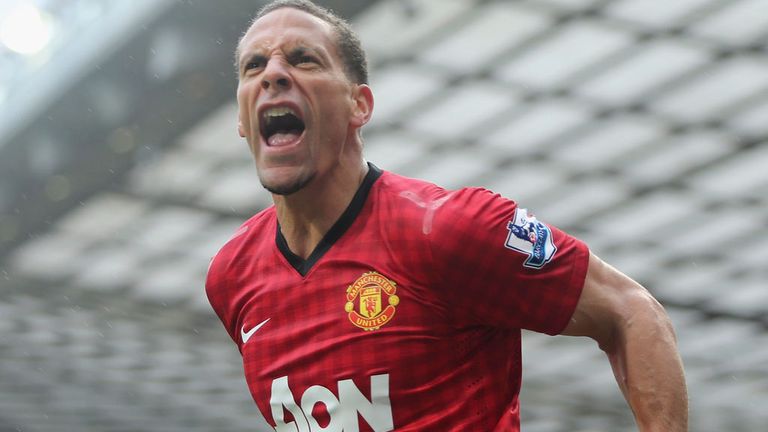 The future of the 34-year-old has been uncertain with his contract expiring in the summer and ongoing concerns with niggling injuries.
But the centre-half, who controversially withdrew from England duty in March citing conflicts with his training schedule, seems determined to stay on for a 12th season at Old Trafford.
After scoring the winner in Ferguson's last home game in charge on Sunday and picking up a sixth Premier League champions' medal, Ferdinand told MUTV: "Manchester United has a bright future.
"The manager has left the club in great health and we are looking forward. We have a great number of good young players who are eager to win things and be successful and work hard.
"That is what the manager has instilled in these players. The work ethic has to continue if we are going to be successful. I would like to be part of that."
Ferguson said last week he felt Ferdinand, signed from Leeds in 2002, had enjoyed his best season for the club and tipped the Londoner to secure a new deal.
The former West Ham United star, named in the Professional Footballers' Association Premier League team of the year, reflected on his arrival 11 years ago.
He added: "I dreamt of getting one (a Premier League winners' medal) when I turned up here. I remember looking at Ryan Giggs and the others when I arrived. At that stage they had five, six and seven. I just wanted one. I thought I would be happy with that.
"But once you get it, you want another. You continue striving to succeed, to achieve things and win trophies. To get six is unbelievable. But that is the main thing at this club, you want to be successful."
On dealing with the unexpected retirement announcement by Ferguson and the resulting doubt on who would be taking over last week, Ferdinand said: "There have been a couple of emotional moments.
"It was like a bolt out of the blue. No one was expecting it. It disappointed a lot of us but I understand the manager's reasons.
"He has had a great stint and an unbelievably successful period. He instilled great qualities in the club and we must carry that on."