David Moyes says Sir Alex Ferguson told him about the Manchester United job
David Moyes says he is thrilled to have become the new manager of Premier League champions Manchester United.
Last Updated: 05/07/13 5:44pm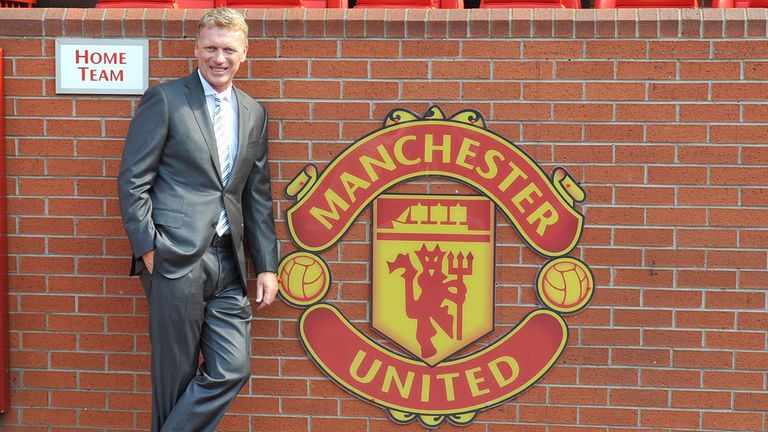 And, speaking at his first press conference as boss of the Old Trafford club, the Scot revealed how the job offer was delivered out of the blue by his predecessor, Sir Alex Ferguson.
"I'm incredibly privileged to be given the opportunity to be the manager of Manchester United," said Moyes. "And very grateful to Sir Alex and the board for making that happen.
"It was a really strange situation for me, I had no idea whatsoever.
"A lot of people think I knew something about it. I knew nothing at all about it until Sir Alex gave me a call, and asked me to come to his house.
"I was expecting him to say 'I'm going to take one of your players' or something else, I wasn't sure.
"We went in and the first thing he said to me was 'I'm retiring'. I said 'Yeah, when?' I mean, he was never going to retire was he? But he said 'next week'.
"His next words were 'and you're the next Manchester United manager'.
Blood drained from my face
"I didn't get a chance to say yes or no, I was told I was the next Manchester United manager by Sir Alex, for me that was enough.
"As you can imagine, the blood drained from my face. I was really shocked, more shocked that Sir Alex had chosen to retire. I was incredibly thrilled that I was going to be given the chance to manage Manchester United."
It has been suggested that Ferguson might stay away from United's first few matches for fear that his presence might add to the pressure on Moyes.
But the new boss said: "I hope Sir Alex Ferguson is sitting in the directors box. He's been so good. I've already called him two or three times for advice on a couple of matters.
"This is a new era but Sir Alex Ferguson will never go away, he'll always be here. You can see his statue, you can see his stand, and he's certainly someone I'll go to.
"Hopefully, the supporters will realise it was his time to finish and time for someone else."
We're always interested in the best players
Asked what counted as success in his first campaign, Moyes replied: "This club is about winning trophies and that's something I'm looking forward to doing."
Moyes was also asked about Real Madrid's Cristiano Ronaldo, who has been linked with a possible return to United this summer.
The new boss would not speak directly about the Portuguese forward but said "this club is always interested in the best players".
The United boss says he may add to his squad before the club go on tour next week although "time is closing in a bit."