Gary Neville backs Wayne Rooney to win over Manchester United fans
Gary Neville expects Wayne Rooney to stay at Manchester United and retain the backing of the club's supporters.
Last Updated: 12/07/13 7:55am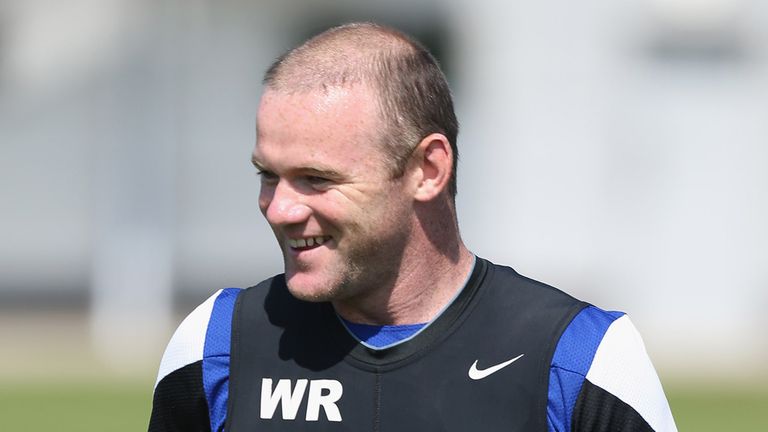 David Moyes' first game in charge will be away at Swansea City, live on Sky Sports on Saturday August 17, but speculation is rife over whether the England striker will still be at the club.
His future was thrown into doubt when former United boss Sir Alex Ferguson suggested he had handed in a transfer request towards the end of last season and he has been linked with the likes of Chelsea, Arsenal and Paris Saint-Germain throughout the summer, even though David Moyes insists he is not for sale.
Rooney was sent home from the pre-season tour of Asia due to a hamstring injury to further muddy the water after previously asking to leave United back in 2010.
However, former team-mate Neville dismissed suggestions he would feel the wrath of his own supporters because he has always shown commitment on the pitch.
"The fans have been through this before many times," said the Sky Sports pundit.
"In any workplace it's not unusual in a 10 or 15 year period of a long career to have moments of doubt, but then things settle down a little bit.
"But in football everything is huge news, particularly around Wayne, Manchester United or any England player.
"It will unfold in the next few weeks, but I genuinely think the fans will be fine with him. He's been too good a player - a great player - for Manchester United and the fans will accept that.
"Obviously they want players to be committed to the club, but the one thing about Wayne Rooney is wherever he plays his football and whatever is going on, he's always 100% committed to what he does.
"The fans will basically get behind the players who are out on the pitch. I very rarely see, in fact I've not seen in 26 years, a Manchester United player treated harshly by Manchester United fans, particularly the ones that have served them well and did their all.
"Wayne can certainly put himself into that category, so I have no doubts on that score."
Together
Rooney has not publically stated an intention to stay at United, but has returned to pre-season training and will travel with the squad on their tour of Bangkok, Sydney, Japan and Hong Kong.
Neville praised United's response to the situation and while he does not expect Rooney to leave, he says the club will continue to handle the matter delicately.
"I think Wayne Rooney and Man United go together," he added.
"We're all aware of how big the football club is and you can achieve all of your ambitions there, but Wayne is ambitious himself. He has to obviously make his mind up, but the club will have a part to play in that.
"One thing about United, and it's always the same, is they never panic through situations. Whatever's happening, they always do things in a controlled manner. Even though there have been rumblings about Wayne, he has come back into pre-season training it would seem without much of a fuss.
"It will all unfold in the next few weeks, but as a player you never understood what was happening. You never understood who was going to leave, who was going to stay or who was going to be signed.
"You might get an inkling, but generally a lot of them were surprises. People don't tend to believe that, but honestly it was true and it was the way in which Sir Alex Ferguson always did his business.
"I'm sure David Moyes will do exactly the same and keep things close to his chest."
Only on Sky Sports can you watch 43 live Premier League matches between August and December including every club twice, nine derbies and the big head to heads between last season's top four.