Robin van Persie wants Wayne Rooney to stay at Manchester United
Robin van Persie is adamant he wants unsettled forward Wayne Rooney to remain at Manchester United.
Last Updated: 11/08/13 10:09am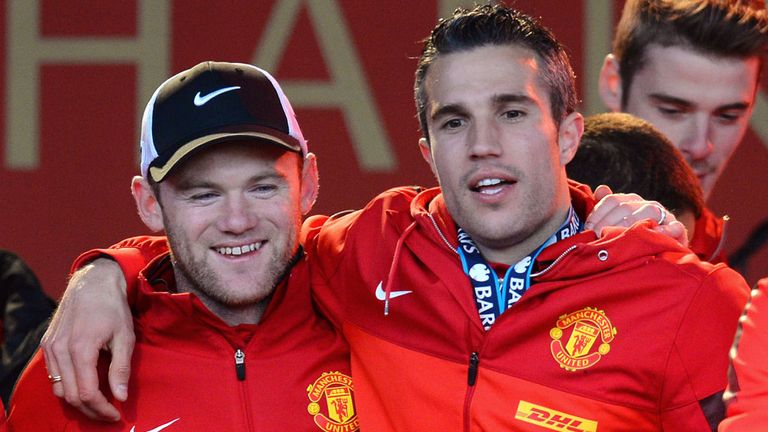 Rooney is wanted by one of United's main title rivals, Chelsea, who have made two unsuccessful bids for the 27-year-old.
Rooney's United future has been unclear since the end of last season but Van Persie is in no doubt that he wants his team-mate to remain at the club.
He told The Sun: "Everyone wants Wayne to stay and deep down I think he feels the same.
"One of the reasons I joined Manchester United was to play with Wayne.
"I hope he stays. Not only is he a great goalscorer, he does so much work across the pitch.
"He hates to lose and that's why you see him one minute pressing for goal, the next minute defending ferociously. He is an asset to any team.
"He will come good again. He is a strong lad."
Meanwhile, United manager David Moyes has confirmed that he is not unhappy about Rooney linking up with the England squad.
Rooney has not played for United in pre-season due to injury and is set to miss Sunday's Community Shield against Wigan.
But he has still been called up by England manager Roy Hodgson for the friendly against Scotland next Wednesday.
However, Hodgson is adamant the Rooney situation will not cause a problem between him and Moyes, and the United manager concurs.
He told MUTV: "I had a long conversation with Roy about it last week.
"Wayne has had a shoulder injury. He has been sore with it, which has meant he has not been able to have any contact, so he hasn't trained with us (the first team).
"He has trained a little bit with the reserves as a non-contact player, a floating player, so at least he got a little bit of football work.
"He trained with the first team today (Saturday) and he did a bit of extra work, so he is probably more likely to be ready for England than he will be for us.
"You've got to remember, he has had no football practice. I explained all this and I would only expect Roy to play him for a short time."