Transfer News: Gary Neville confident Wayne Rooney will stay at Manchester United
Gary Neville insists Wayne Rooney would never go AWOL on Manchester United in order to force his way out of the club.
By Graeme Bailey - Tweet me: @graemebailey
Last Updated: 13/08/13 9:36am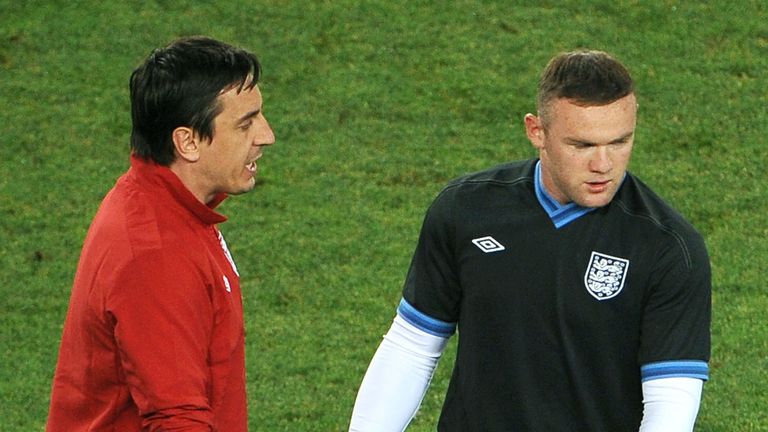 The striker is seemingly pushing for a move away from the club he has spent nine years with, and Chelsea have had two bids rejected.
But Sky Sports' Neville, who is part of the England coaching staff and is helping them prepare for the friendly with Scotland at Wembley, maintains his belief that Rooney will not leave his former club.
Asked if Rooney would continue fighting for United, he said: "Absolutely, 100 per cent.
"This is not somebody who is going to go AWOL. I would be amazed if that ever happened.
"He's a street footballer, he's someone who, speaking to people this week, is training hard, wanting to play, wanting to do well, and keeping his professionalism about him.
"He went through a situation (a bust-up with Sir Alex Ferguson) two or three years ago if you remember.
"It was quite a public situation but he still continued to want to play football.
"We are all big enough to understand that players want to leave clubs, but I think there is a way to leave a club.
"If United decide not to sell him, I think that he will go about his business in absolutely the way he has done previously."
Rooney did not feature in United's pre-season programme due to hamstring and shoulder injuries, but he is expected to play some part for England against Scotland.
And, though his club future continues to be the subject of conjecture, England coach Hodgson does not expect it to impact on his performance for his country.
"It would be good if he can get his future sorted out," Hodgson said. "But I have been faced many times with a situation when players have not necessarily been playing in their club side, but they have still been selected.
"I'm not going to say if he is not selected for his club side then he will not be selcted for England. He will always be considered for England because he is one of our best players."
England goalkeeper Joe Hart is also confident that all the speculation over Rooney's future will have no effect on the player's focus ahead of the friendly with Scotland.
"Wayne's Wayne, he trains the same, works hard, he is always out half-an-hour before everyone because he just seems to love football," Hart told Sky Sports News.
"That's him, I don't think that will ever change.
"He has got stuff going on in his own life and his own football career, but at the moment he is here with England and I am pretty sure all he is focused on is Wednesday night.
"Literally, you are away from your club - nothing to do with your club. You are representing England. The same as when you are with your club, you are representing your club, so I think it's a welcome environment, it's a safe environment in terms of players and staff and people who are involved with England.
"I can't talk for him, I can only talk for myself and whenever I have come here all that I have focused on is England."