Phil Neville tells Sky Sports that David Moyes has impressed everyone at Manchester United
David Moyes has made an immediate impact as Manchester United boss, says Phil Neville.
Last Updated: 17/08/13 9:49am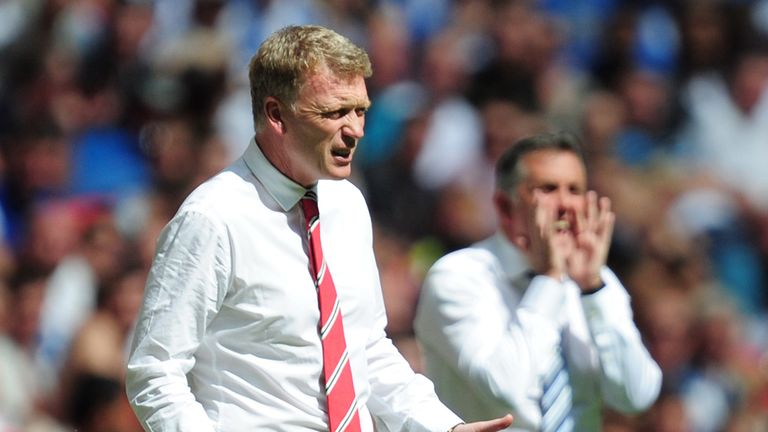 Neville, who followed Moyes from Everton to Old Trafford this summer, says the United boss has already stamped his authority on the club after replacing Sir Alex Ferguson.
But the former Manchester United and Everton player has warned that Moyes must learn the United philosophy of attacking football, which could be seen as a contrast to his more pragmatic approach at Everton.
"I think he has really impressed the lads with his training methods," he told Sky Sports. "We have worked them hard and we think we have got them really fit for the start of the season. But he has remained true to himself.
"He has been the same person that I have known for the past eight years. He has treated the players the same as he treated the Everton players - I think that is really important. He has not come in and tried to be someone he is not.
"He has been David Moyes and I think that is why he has impressed all the lads and all the staff so quickly. His feet are under the table now and I think he feels we are ready to start the season well.
"The manager, Steve Round and Jimmy Lumsden have to learn the Manchester United way. There is a certain style with being the champions, with being Man United footballers and he is picking it up really fast.
"There are certain things that happen in games with Everton it wouldn't happen - the players may try something a little bit more extravagant may be. That is just the Man United way.
"He has to pick that up really quickly because there will be times this season when we are down in games - if we are 2-0 down and we go on to win 4-2. It just happens. He will learn that as the season goes on. There is a certain aspect to the job which he has to pick up really quickly and that is the style of play."
Opener
United begin the defence of their Premier League title against Swansea on Saturday evening at the Liberty Stadium.
Neville believes Swansea's matches in the Europa League mean they will be slightly ahead of United in terms of match practise but the former Everton captain is confident United can start the season with a victory.
"We have watched a lot Swansea because they have had to prepare for the Europa League ties they are probably slightly ahead of us in terms of the preparation," he said.
"They have had two competitive games and that probably gives them the edge. But we are the champions and we are going in into the game having won the league by 10 points last season so that gives us massive confidence."