Manchester United boss David Moyes sees more to come from Robin van Persie
Man United boss David Moyes has warned that Robin van Persie is set to get even better as he chases down more medals.
Last Updated: 20/08/13 8:41am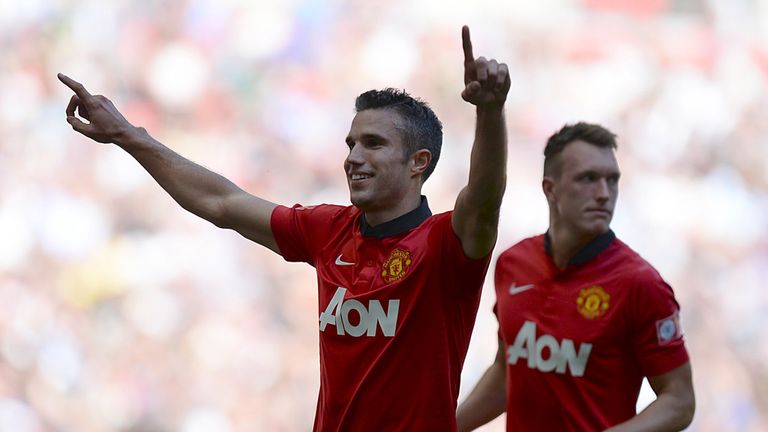 The deadly Dutchman helped United to a 13th Premier League crown last season, but that success was his first title triumph in English football.
Surrounded by team-mates who have grown accustomed to lifting major silverware, Van Persie is determined to make the most of the opportunity presented to him at Old Trafford.
He has already justified the £24million United paid Arsenal for his services in 2012, with 30 goals in his debut campaign landing him a Golden Boot.
If a two-goal showing against Swansea City on the opening day of the 2013/14 campaign is anything to go by, on the back of a brace in the Community Shield, more of the same can be expected this term.
Moyes is convinced that will be the case, with the new man at the Red Devils helm revealing that Van Persie has the hunger to take his game to another level.
He said: "I hope he can. With his experience, I hope so. His goals against Swansea were top goals, of a top goalscorer.
"The performance of the team, we can play better, but I thought the finishes made the difference.
"It is hard for Van Persie to remain on peak form. I said to the players the other day, 'You know, how many medals had they won?'
"Giggsy had won 13, quite a few of them had won five or six and Robin said he's only won one.
"So the challenge is for Robin to keep trying to win medals, and I think he's got it. I think he's driven to do it, he wants to succeed and I've been really impressed by him in his training and commitment and in trying to improve himself."
Fantastic
While Moyes believes Van Persie can still raise his standards, he acknowledges that the 30-year-old is already among an elite group of performers at the top of the global game.
He added: "World class is sometimes used quite loosely, but I think it'd be hard not to put him in that category, that's for sure.
"We're talking about his goals, but the balls when he got it into him and his hold up play were also fantastic. He brought people into the game for us as well.
"He's got an all-round game and we want to keep supplying him and give him every opportunity to score."