Phil Jones says Manchester United team-mate Wayne Rooney has not been acting differently
Phil Jones insists Wayne Rooney has not acted any differently during the recent uncertainty over his future.
Last Updated: 31/08/13 9:50am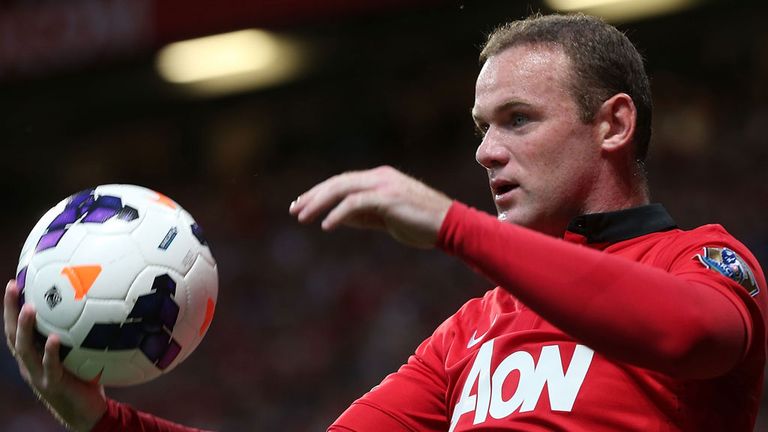 Rooney has been the subject of two failed bids from Chelsea this summer following reports that the England international would be keen on a move to Stamford Bridge.
However, United have repeatedly stressed that Rooney is not for sale and Chelsea boss Jose Mourinho has now given up his pursuit of the 27-year-old.
His performances have not been affected by the saga after he created two goals in the opening day win over Swansea before impressing from the start in Monday's 0-0 draw with Chelsea.
And Jones told The Sun: "Wayne has been just the same as far as we're concerned, cracking jokes in the dressing room and acting the same way he always does.
"It was no surprise to see him play well against Chelsea. He's a real character and he played a terrific game, which was great to see.
"It has been pretty much business as usual at the club, even with David Moyes replacing Sir Alex. The new boss is good at getting his ideas over and I think everyone has responded well to him and we're all enjoying it."
Meanwhile, United manager Moyes is adamant Rooney can still elevate himself to the status of an Old Trafford legend as he only requires three more goals to become the fourth player to score 200 for the club.
And, once he has overtaken Jack Rowley and Denis Law, only Sir Bobby Charlton, on 249, will be left to catch to become the club's all-time leading marksman.
"There is a situation with Wayne where he could go on to emulate some of the greats at United with the goals he can score," Moyes told reporters.
"The challenge is there. We've said it openly - he's got an opportunity to reach the great heights here.
"I wouldn't say the heights of immortal people, but those like Sir Bobby Charlton are on as high a pedestal as anybody can get.
"We've set it down for him - can you put yourself in this position? Judging the crowd reaction last week, they would all be happy as well."
Though Rooney has stayed silent on his future, Moyes confirmed that there have been no issues with the former Everton youngster.
"I've read all this stuff about what was supposed to have happened but I've never had a minute's problem with him," said Moyes.
"He wasn't a bad lad. He was getting on with his work and is mentally in a pretty good place mainly because I saw him training every day getting himself in a good condition."
Rooney's industry was obvious to everyone in the 0-0 draw with Chelsea and now Moyes thinks he only needs to find the net to be back to his best.
"Maybe he had to come back and show people what it meant the other night," said the Red Devils chief.
"With his work rate he was as much a team player as he was an individual. Now I'm really keen on getting him focused and getting him on the goal sheet."