Rudi Garcia expects reported Manchester United target Daniele de Rossi to stay at Roma
Rudi Garcia is confident Daniele de Rossi will stay at Roma following reports Manchester United have made a bid.
By Nadia Carminati
Last Updated: 31/08/13 8:56pm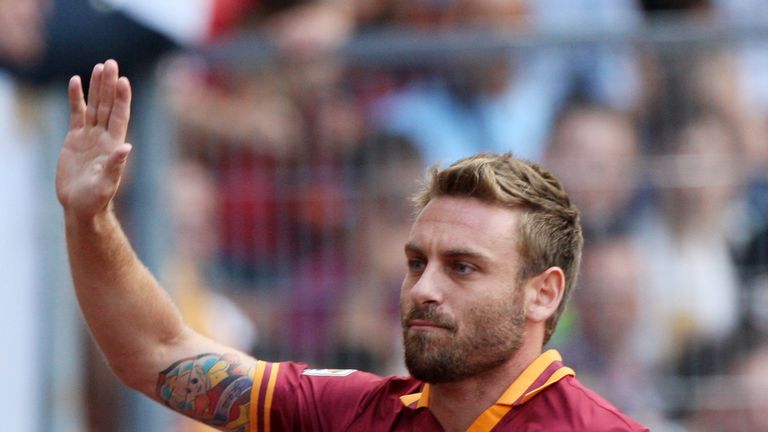 Speculation has claimed that United have offered £10million for De Rossi as manager David Moyes tries to strengthen his squad before the transfer window closes.
De Rossi has previously been linked with Chelsea and Manchester City, but Garcia does not expect to lose the 30-year-old.
"Daniele de Rossi isn't only a big player, but he's also a big man," Garcia told a press conference ahead of Sunday's game against Verona.
"He has been here at Roma for a long time and he wants to play with this jersey.
"We spoke when he came back from his holidays and we said that, if it got past a certain date, he would certainly remain with us.
"He will stay here for the whole season and this is something that satisfies me a lot."
United are also reportedly interested in Athletic Bilbao midfielder Ander Herrera as Moyes tries to conclude his first major signing.
Bilbao president Josu Urrutia claimed on Friday that a firm bid for the 24-year-old had been lodged and immediately dismissed.
And Urrutia says the only way Herrera will leave the club is if he demands a move and his release clause - reported to be £30.75m - is met.
Speaking at a press conference, reported on Athletic's Twitter feed on Friday, he said: "We have had an offer for Ander Herrera. Our club is different, it is based on sentiment. Our objective isn't to make money.
"We received the offer last night and have communicated that we will not negotiate for our players.
"For a player to go, first the player must express his desire to leave the club and pay the release clause."
Moyes was asked about Herrera at his press conference ahead of Sunday's game against Liverpool, but was not prepared to name United's targets.
He said: "We would try not to disclose our bids, if that's possible. We would just let the clubs deal with it and try to do it in the professional manner."
Everton midfielder Marouane Fellaini and Barcelona's Cesc Fabregas have also been the subject of bids from the Premier League champions this summer.