Manchester United captain Nemanja Vidic says David Moyes has not lost his cool
Nemanja Vidic has been impressed with the cool of David Moyes despite Manchester United's slow start to the season.
Last Updated: 13/09/13 11:18am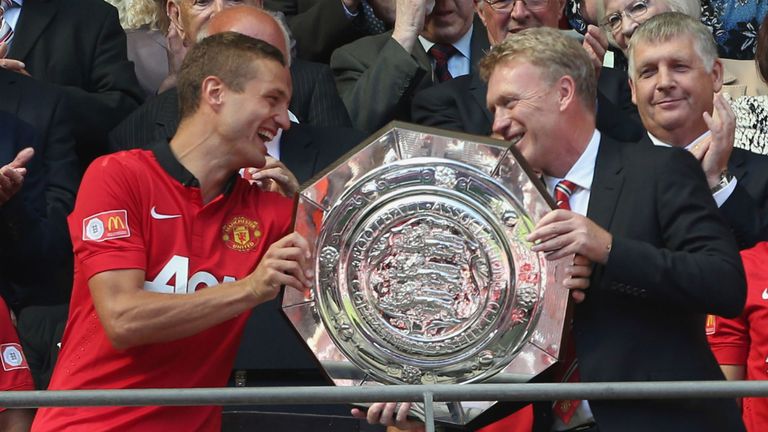 Despite United only registering one victory so far this campaign, and losing to Liverpool last time out, new manager Moyes has placed faith in the squad.
The former Everton boss took the reins from Sir Alex Ferguson during the summer, while several members of his backroom staff also made the switch from Goodison Park.
Although it has not been an idyllic start to the title defence, defender Vidic hailed the composure shown by Moyes, with no sign of the 50-year-old raising his voice in the dressing room.
"Until now he didn't really have any needs to shout at players, because at the moment everything is going smooth," he said in the Daily Mirror. "The players are training well and as long as it's like that he won't have any reason to do it.
New challenges
"Obviously the new manager brought his staff as well, who have worked with us for two months, and we've got to know each other more.
"It's all positive - I think we are in good shape. It's not big changes - we have similar players - but he's trying to teach the players different things. There are lots of positives and now it's time to show them on the pitch."
Serbian international Vidic acknowledged the success enjoyed by United during Ferguson's three-decade tenure but admits he is relishing the prospect of a new era.
"We had success with Sir Alex," the 31-year-old added. "It was a pleasure and I am glad I worked with him. But something new always comes - it's new challenges, new training, new preparations.
"I had a great time with Sir Alex and we had so much success. I will always remember it as a good time."