Marouane Fellaini tipped for success at Manchester United by David Moyes
Marouane Fellaini says he has come to Man United to win trophies and David Moyes is convinced he can be a big star.
Last Updated: 13/09/13 8:19pm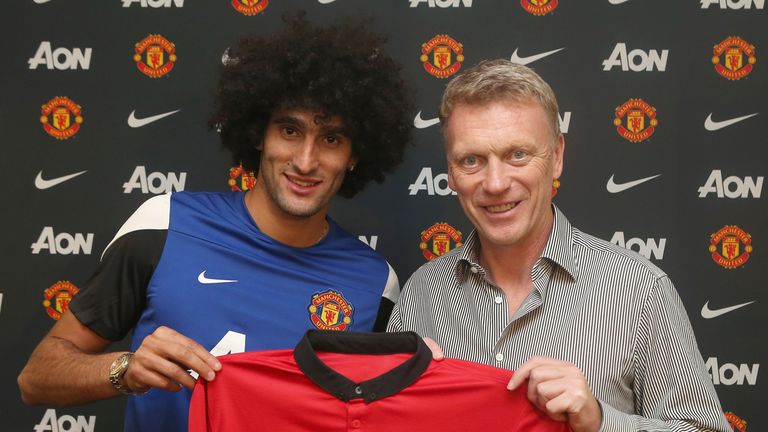 United had been keen to bring in Leighton Baines from Everton as well this summer but had a joint bid rejected and were only able to land Fellaini on deadline day.
Speaking to the media alongside his new recruit, Moyes said: "We had chosen to do it the way we did because we wanted to try and get Leighton Baines and we didn't want to give up on that until the last minute.
"We felt the best way to do that was to try and keep the two deals together. Only at the last minute did we split them."
Fellaini has trained with the club this week and is expected to make his debut in Saturday's Premier League clash with Crystal Palace.
Moyes has no doubts that he will be a success at United, saying: "They talk about the great Belgium team but every time I go to see Belgium, I always come away thinking Marouane is the best player."
"Fellaini can do several different jobs, score goals and is effective in different areas. I hope he can continue to improve.
"We've got a busy schedule and I wanted to play a different way in different games. Marouane Fellaini helps me to do that.
"Fellaini's presence is very noticeable for many reasons, including his size. But you can't overlook his technical ability."
"Marouane Fellaini has always been incredibly focused, he trains hard every day. He'll be an asset for Manchester United."
The transfer was only completed after Fellaini gave up an estimated £4million in salary and also drove to Everton's training ground at Finch Farm to plead with manager Roberto Martinez to be allowed to leave.
"I talked with the manager," said Fellaini. "It was a big opportunity for me to join one of the biggest clubs in the world.
"I want to win trophies. I play football for this. With Manchester United I have a big chance to win something."
Having been spoken of as a potential United signing for most of the summer, Fellaini admitted he started to fear his dream move was never going to be completed.
"With the chairman at Everton you never know," he said.
"Sometimes I think there is no chance for me to join Manchester United. But in the end I was so happy because the chairman accepted the deal."