Manchester United's Chris Smalling does not want to let chance slip after frustrating 2012/13
Manchester United's Chris Smalling has admitted last season was frustrating and is determined to take his chances.
Last Updated: 19/09/13 4:45pm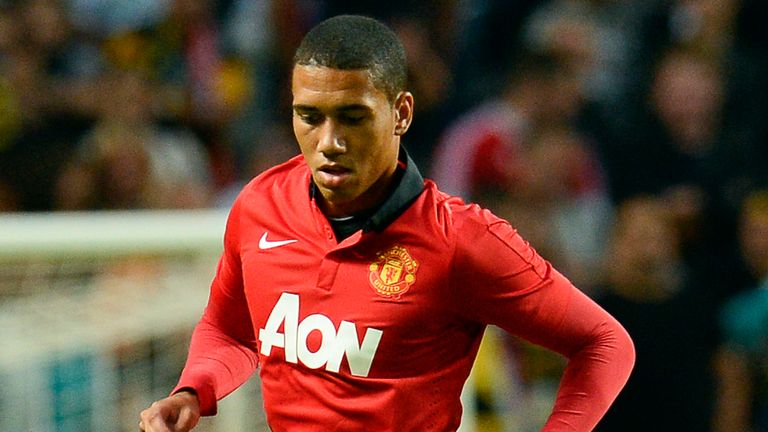 Smalling endured injury problems at the start and end of the 2012/13 campaign and has had to bide his time since David Moyes took charge due to the competition for places in defence.
He was given the chance to start at right-back against Bayer Leverkusen in the UEFA Champions League on Tuesday and impressed in a 4-2 victory.
The former Fulham man is now hoping to keep his place for Sunday's eagerly-anticipated Manchester derby at the Etihad Stadium, insisting he is prepared to play anywhere for the good of the team.
"Last season was very frustrating for me," said Smalling in the Manchester Evening News. "The first three months and the last two were horrible.
"But I have been fit since the start of the season and have just been waiting for my chance because we have a very competitive squad now.
"It is very true the manager has less room to manoeuvre because of having such a big squad. He has to go with what he feels.
"The ones like myself who have not been in the starting line-up just have to make sure in training we do as well as we can and make sure when we get our chance we let him know we are here and he doesn't forget about us.
"I was just glad to get back playing again on Tuesday night.
"Right-back is not my preferred position, but I know I can play there if needs be and after such a frustrating time you are just glad to be back and involved again.
"Yes of course I want to stay in for Sunday. It is a game that we all relish."
Smalling hopes for a repeat of last December's derby at Manchester City, when Robin van Persie won the game for the Red Devils with an injury-time free-kick.
"If there was ever a way you could choose to win a game, in the last minute, away from home, against your biggest rivals, that was it," said Smalling.
"The celebrations and what we went through afterwards were brilliant."