Former Manchester United goalkeeping coach Eric Steele backs David Moyes
Former Manchester United goalkeeping coach Eric Steele is calling for patience with David Moyes.
Last Updated: 01/10/13 4:31pm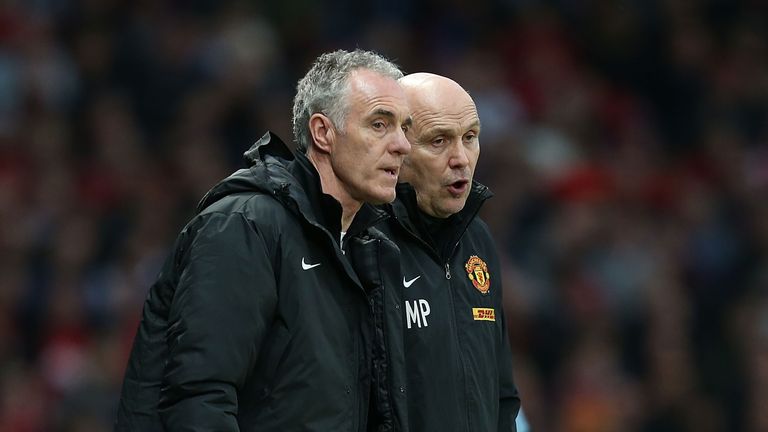 The champions have endured a disastrous start to the season - languishing in the lower half of the league following three defeats in their last four Premier League games.
Saturday's shock 2-1 loss to West Brom at a deflated Old Trafford sparked fresh concerns over Moyes' efforts since taking over from Sir Alex Ferguson in the summer but Steele, who also departed in May, says time will be the healer.
The 59-year-old told Sky Sports News: "There's a transition period. You'll remember when Sir Alex Ferguson went in and it was never easy for him. David Moyes has gone in and had to take over a huge machine.
"If you look at the experience he has, he knows the Premier League. People forget that. He's got people around him who can support him. He's also got people up top in Sir Bobby Charlton, Sir Alex and David Gill.
"He's got people who he can turn to and say: 'Right. What do you think I should do?' He's got enough support there. I think there will be patience shown with David."
Former United defender, and Sky Sports pundit, Gary Neville, is convinced that Moyes will still be in charge at Old Trafford in three years.
He told Monday Night Football: "If you think about the early years of Sir Alex Ferguson, he was allowed to develop into a presence. In the first three or four years he was at the club he was coming under intense pressure.
"David Moyes, there's no doubt about it, is still learning to come to terms with his squad and getting to know his players and the culture of the club.
"People have said he's been negative in press conferences and they probably have got a point on that. Manchester United fans don't like sensible and realistic, they like to dream and they want to hear that the club can win the league and can win the European Cup.
"But he's finding out about the club and one thing's for certain; you've got Sir Bobby Charlton in the boardroom and Sir Alex Ferguson in the boardroom and David Gill in the boardroom. That manager isn't going anywhere by the way.
"David Moyes will be given time over three or four years to build a football club and learn the ropes. It takes time and he'll be given time, just as Arsenal have done with Arsene Wenger.
"I put it towards the players. I know a lot of those players and they'll be hurting like mad. A lot of players will go before David Moyes goes because, believe me, they will give him time."
Neville also insists it is far too early to rule United out of the running for this season's Premier League title.
He added: "People are saying Manchester City can win the title and they're only three points in front of Manchester United so I think they can.
"Obviously at the moment there's an inquest into everything and when the mud's flying around some of it is going to stick. At the moment they just have to work their way out of it."