Kevin Ball backs David Moyes to succeed as Manchester United boss
Sunderland's caretaker boss Kevin Ball says David Moyes needs time to rebuild the Manchester United squad.
Last Updated: 06/10/13 2:21pm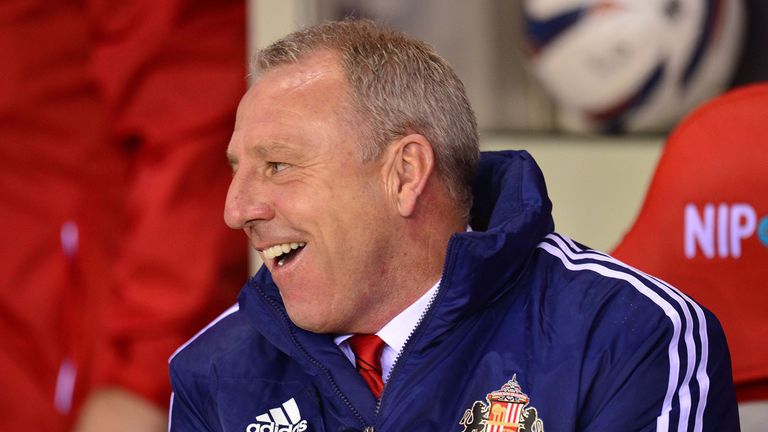 Ball will pit his wits against Moyes on Saturday evening and it will be the second time he has taken caretaker charge of Sunderland against United.
In 2006 he took charge on an interim basis after Mick McCarthy departed and, although Sunderland emerged with a creditable 0-0 draw at Old Trafford, the result confirmed their relegation.
Both men are under pressure - Ball because his team are bottom of the table, and new United boss Moyes because he has overseen the club's worst start in the top flight since 1989.
Asked if Moyes' detractors were unreasonable in expecting instant success, Ball said: "From Manchester United's point of view, they are probably entitled to do that.
"But they have also got to understand when things change, it takes time to build some sort of momentum, and I have no doubt in time, that will happen there.
"I just look at it as Manchester United. I know what quality of players they have got and know it's going to be a very difficult game.
"What's gone on in previous games, I'll look at, but it doesn't really count because they have got a lot of quality about them, they are a good team. I am really hoping David Moyes is successful there."
Rio Ferdinand, Ryan Giggs and Wayne Rooney all played for United in that 0-0 draw and they could be in action at the Stadium of Light.
Ball said: "I must admit, Giggs' hair is grey now, isn't it, like mine? It's unbelievable, it's absolutely fantastic. Ryan Giggs, you look at him and what he's done and everything about him in terms of his football is absolutely fabulous, and Ferdinand, Rooney - superb.
"What I felt on the night was quite interesting as well. I can't remember who it was when they came out, but they actually said 'Well done' to us on the night for the result.
"I felt a great sense of humility from them as well, which is a fantastic attribute to have. It was a great night. Ultimately what happened after the game didn't sour it, but was a reflection."