Manchester United star Adnan Januzaj in no rush to decide international future
Adnan Januzaj insists he is not thinking about his international future, but is concentrating on Manchester United.
Last Updated: 08/10/13 10:11am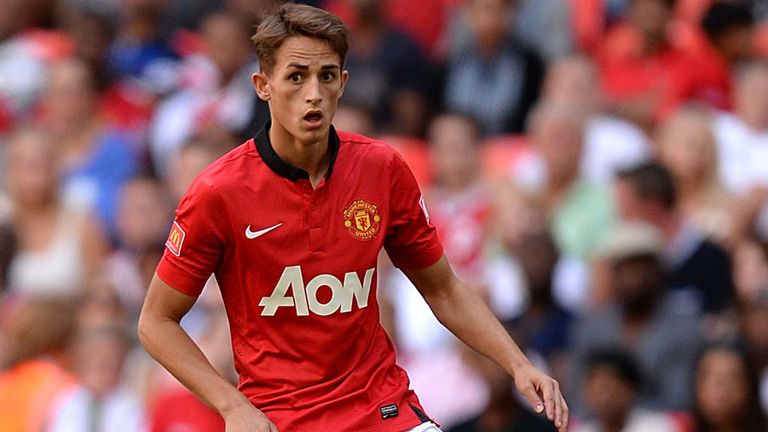 The Belgian-born midfielder has so far snubbed call-ups from the country of his birth, whilst Turkey, Serbia and Albania compete for his allegiance.
It has previously been stated that Januzaj's father wanted him to represent Albania, but the player - who sparkled on his full United debut with two goals in the win at Sunderland - is not rushing any decision.
"At the moment, international football isn't something that I've thought a lot about," Januzaj is quoted by the Daily Mirror.
"I know that, first, I have to concentrate on what I do for United, because that is the most important part of my career right now.
"I want to play well for United and give everything for my club."
Whilst Januzaj's international future remains unresolved, reports claim United face a battle to hold on to him - with his current deal set to expire at the end of the season.
Happy
However, the 18-year-old admits he is very happy at Old Trafford.
"I'm really enjoying myself," said Januzaj.
"I played quite a few games in the reserves last season and thought I did well.
"From there, I had the chance to go on the summer tour and it was a good opportunity for me to show what I can do for the team. It was a great experience and ever since I've been working hard.
"When a big, big manager like Sir Alex Ferguson gives you a shirt number your thought is that you can really do something for this club."
"When you realise everyone is behind you at Old Trafford, it gives you the belief to play with the qualities I have.
"It really helped having that support behind me because you get a feeling that everyone wants you to do well.
"I want to play in as many games as I can and become the best player I can possibly be. I know that I need to keep working hard every day to achieve that. I have to be ready, ready to take my chance.
"I'm confident in my ability and believe I can help the team."
Belgium have been making overtures to Januzaj but speaking ahead of his side's games against Croatia and Wales, coach Marc Wilmots confirmed the midfielder does not want to choose at present.
"Manchester United told me that Januzaj has not made a decision to play for a national team yet, not for any country," Wilmots told reporters.
"We gave a clear signal [that we want him to play for Belgium] and now it's up to him. I will respect his choice."