Premier League: Edwin van der Sar believes David de Gea was key to title glory
Edwin van der Sar believes David de Gea is one of the key reasons behind Manchester United winning last season's title.
Last Updated: 09/10/13 9:18pm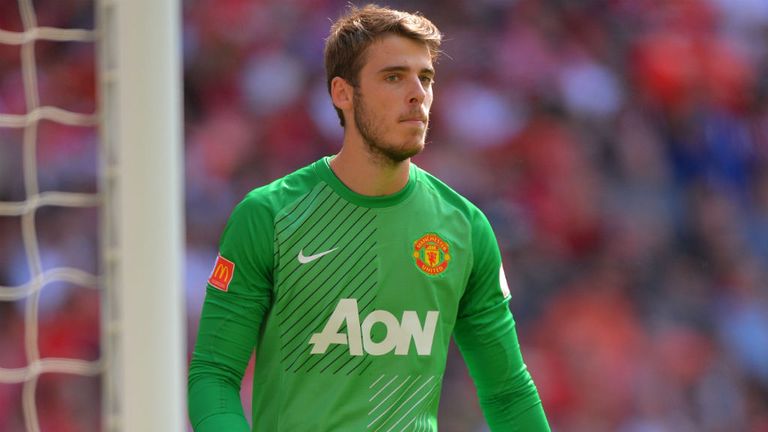 Van der Sar closed out his career in style at Old Trafford, winning four league titles, two FA Cups and a Champions League before hanging up his gloves.
De Gea was given the unenviable task of replacing the former Holland international two years ago, with United making him the world's second most expensive goalkeeper aged just 20.
His performances after joining from Atletico Madrid were heavily criticised, but he has risen in stature and shone as Sir Alex Ferguson capped his final season with the league title.
De Gea's performances saw him selected for the PFA Premier League Team of the Year and van der Sar is full of praise for the man that replaced him.
"It is unbelievable," said Ajax's marketing director. "He came from different league, he was young. He was 20 when he came.
"He came from Spain, he didn't speak the language. There is different food, different tactics, different methods of training.
"Corners and free-kicks, balls in the box - that is different to the Spanish league. It was normal he could have some troubles in the beginning.
"I think the way he turned the corner from January onwards has been a real benefit for United and one of the two or three reasons they won the league.
"His physique is better. He worked really well with (former goalkeeping coach) Eric Steele and the physical coaches and that is the way you improve.
"He is still so young but already experienced. Hopefully he will get a chance in the national team also."
De Gea is already impressing this season, pulling off a world-class save in United's 2-1 win at Sunderland on Saturday.
It was just their third league win of the season and leaves them ninth in the standings, a point off newly-promoted Hull.
That is hardly the position David Moyes will have wanted to be in after replacing Ferguson, but van der Sar is not concerned.
"We have had so much success over the years with Ferguson and not even he won the league all the time," he said, speaking at the Leaders in Football conference.
"There is a chance that he might not win in the first season or even the second season, but hopefully they have faith in what he can do.
"I know the directors and the owners are not panicking quickly, so I don't see a problem.
"Of course they are realistic contenders because they have great players, a lot of experience.
"They have a lot of young players coming through as always because United are a team that give young players a chance.
"Maybe a little later than clubs like Ajax, but there is always a chance for the likes of Danny Welbeck, Jonny Evans, Rafael."