Adnan Januzaj happy at Manchester United and aiming to become world's best
Adnan Januzaj has declared that he is committed to Manchester United and hopes to become the best player in the world.
Last Updated: 19/10/13 2:18pm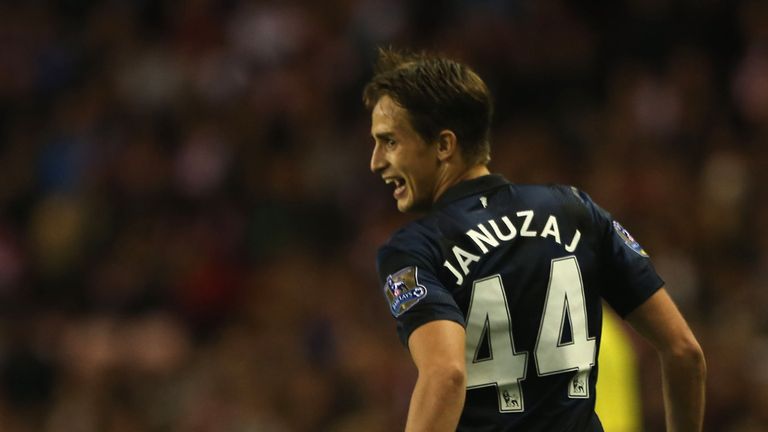 The 18-year-old has suddenly emerged as one of European football's hottest properties after scoring two goals in United's victory at Sunderland a fortnight ago.
Januzaj will be out of contract at the end of the season and his breakthrough performance could lead to increased attention from other clubs, but David Moyes has said he has no worries about losing the youngster.
And Januzaj has insisted he is enjoying life at Old Trafford as he sets his sights on developing into one of the finest players on the planet.
He told Kosovo's KTV: "I am happy at Manchester United and I want to commit myself 100 per cent in every game to do my best.
"I want to help Manchester United win the Premier League and become the best player in the world."
Januzaj's international allegiance has also been a hot topic over the past couple of weeks and he has yet to decide which country he wishes to play for.
Belgium, Albania, Serbia, Turkey and Croatia are the current options available to him, while England have also expressed an interest on the grounds of residency, but Januzaj says he will be guided by his father.
He added: "It is my dad who decides which national team I will play for so I will listen to him."
Moyes, meanwhile, has described Januzaj as "the most level-headed young boy I have ever come across".
Moyes has had plenty of experience in developing young talent. It was the Scot who gave both Wayne Rooney and Ross Barkley their debuts at Everton.
And now he must guide Januzaj through the early stages of his career following the 18-year-old's two-goal matchwinning contribution on his first Premier League start at Sunderland a fortnight ago.
Happily for Moyes, being the centre of attention does not appear to have troubled Januzaj in the slightest.
"He is probably the most level-headed young boy I have ever come across," said Moyes. "I have had Wayne and Ross and all the other ones who have come through at different clubs. He is the most steady and stable."
It appears Januzaj's career will be guided by his father, Abedin, who was Albanian-born but raised in Kosovo.
"The boy is in really good order," said Moyes. "He is certainly kept in check by his father and his family but mentally he is really good.
"At the moment I don't see any problems. Maybe in years to come you will come back and say, 'Do you remember this interview?'.
"But hopefully he goes on to fulfil everything we think he will do."
However, that might not guarantee Januzaj keeps his place for Saturday's Old Trafford encounter with Southampton as Moyes acknowledges he has the options to rotate his troops.
"I don't think anybody plays every week for Manchester United," Moyes said.
"We have enough players to rotate the squad.
"Adnan is 18, does anyone expect him to play every week? Is he good enough? The answer is yes."