David Moyes confident Adnan Januzaj will sign new Manchester United contract
Manchester United boss David Moyes is confident teen star Adnan Januzaj will sign a new contract with the club.
Last Updated: 19/10/13 2:16pm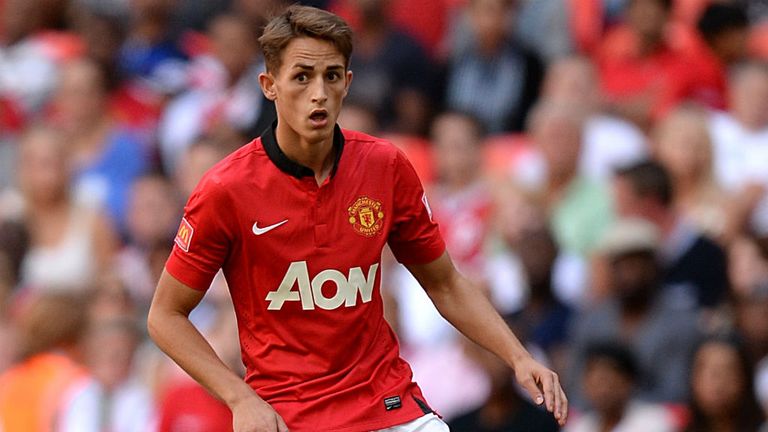 Januzaj's contract ends next summer, and negotiations over a new deal have already been described by the club as "complicated."
United are anxious to avoid losing another talented youngster, with Paul Pogba having departed and gone on to be a big hit with Juventus.
Januzaj made some eye-catching contributions in pre-season, then scored a stunning double in United's victory against Sunderland a fortnight ago.
"I'm confident," Moyes said. "I want to get it done and hopefully it will all get sorted.
"You're 18 and you are playing for Manchester United. I don't know where else would you want to play."
Moyes confirmed his initial intention was to put Januzaj in the team before he actually did.
"I would have played Adnan three or four weeks earlier but the circumstances didn't feel right to put him in the team for different reasons," he said. "He's a really good football player who is going to be able to play in several positions. Time will tell what his best one will be.
"He could arguably be a centre-forward - he's that good with his back to goal - but is also very good coming in off the left or right. As he showed at Sunderland, he has a goal in him as well."
Moyes - who nursed Wayne Rooney and Ross Barkley through the early stages of their career - regards Januzaj as "the most level-headed player I have come across".
"He's got no ego to him," said Moyes. "He has no problem training with the reserves or youth team. He's a real humble boy who has been well looked after by his dad and family.
"He can handle anything that comes. I've spoken to him about what he has to do. There are going to be dips at times with young boys and we'll try and look for that but I don't see it at the moment.
"Obviously I won't play him in all the games or use him all the time but we'll certainly consider using him when we think the time is right.
"When I got the job, part of it was to introduce young players. When we're in the dressing room area I see Matt Busby's comment that if you're good enough, you're old enough.
"That has near enough been the psychology through this club. The last manager put young players in when he had them and if I've got more young ones, I'll look to play them."