Roy Keane accuses former Manchester United manager Sir Alex Ferguson of lack of loyalty
Roy Keane has hit back at Sir Alex Ferguson, accusing his former manager at Manchester United of a lack of loyalty.
Last Updated: 23/10/13 10:59am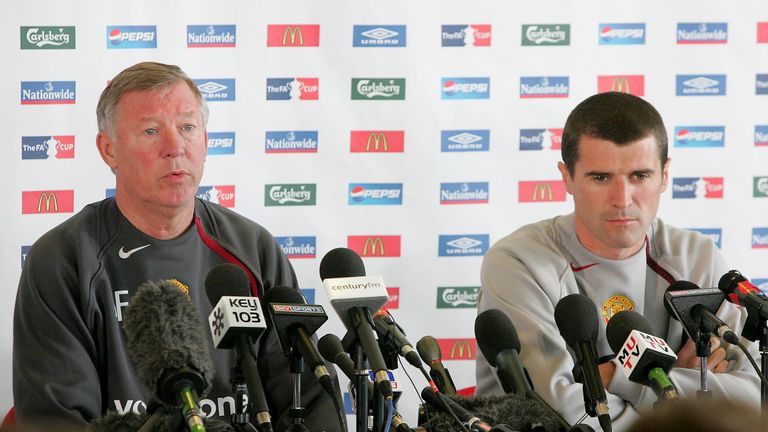 In his new book, Ferguson described his former midfield talisman as an 'intimidating, ferocious individual' and claimed he had 'the most savage tongue you can imagine. He can debilitate the most confident person in the world in seconds.'
Keane left United in November 2005, just a few weeks after incurring the wrath of his manager for criticising team-mates in an interview for MUTV.
"I'm OK, quite relaxed," Keane told ITV Sport. "I remember having conversations about loyalty when I was at the club and I don't think he knows the meaning of the word.
"To constantly criticise other players that brought him success ... I won't be losing any sleep over it.
"I just don't think the manager needs to do it. I don't know how many books he's written now.
"A lot of these players helped win a lot of trophies. It's just part of modern life. People like to do books and criticise ex-players."
Ferguson's book reveals how he could not get Keane out quickly enough following the Irishman's interview with MUTV and he spoke straight away to Carlos Queiroz, his assistant at the time.
He said in the book: "He needs to go, Carlos. 100 per cent. Get rid of him.
"In one deep sense, him leaving was the best thing that could have happened... a lot of players were intimidated by him."
The 71-year-old recalls Keane and Van Nistelrooy having to be pulled apart in a separate incident: "His [Keane's] eyes started to narrow, almost to wee black beads. It was frightening to watch, and I'm from Glasgow."
The Scot said his former captain "thought he was Peter Pan" by the time he was forced out of the club in 2005 and, in an exclusive interview with Sky Sports, elaborated on his feelings.
Ferguson said: "He was a great player for me, a great captain but he overstepped the mark and the right thing was done. We had to cut the strings.
"We did honour his playing career by paying up his contract, we honoured his testimonial and he did come in and apologise.
"But he has come out several times over the last few years and really spoiled that."