David Moyes won't be able to hide from expectation at Manchester United, says Sir Alex Ferguson
Sir Alex Ferguson says new Manchester United boss David Moyes will never be able to escape expectation at Old Trafford.
By Graeme Bailey - Tweet me: @graemebailey
Last Updated: 29/10/13 8:26pm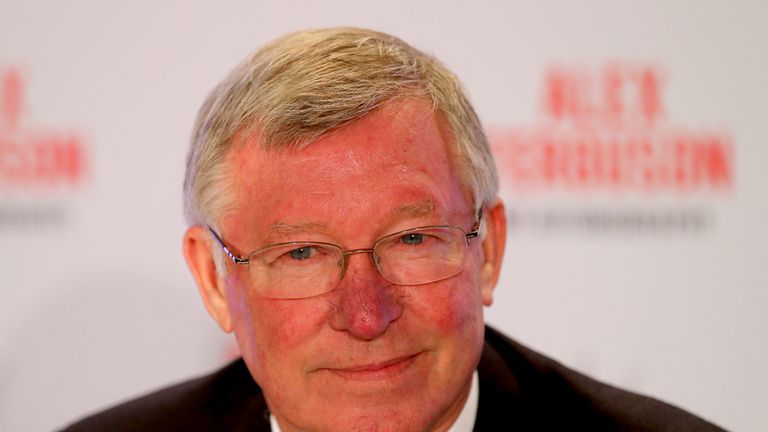 Moyes has endured a sticky start as Ferguson's successor, his new side only eighth in the table and eight points behind leaders Arsenal.
But Ferguson famously endured a testing time at the beginning of his own reign - and he was not following an icon who had enjoyed a trophy-laden 27 years in charge.
"The thing about coming to a club like United is you can never get away from the expectation and I learned about that quickly," said Ferguson, speaking at a question-and-answer session for a 1,700-strong audience at The Lowry Theatre in Manchester, where Moyes was a guest.
"I spent a lot of stupid time looking at history, getting out early results from the 10 previous seasons and it was doing me no good, I was getting nowhere with that.
"I learned you had to look at your own situation. Winning a trophy at any time is important at this club.
"I was there 27 years and that gave me time to look ahead.
"When clubs sack their manger they have no evidence it works. When a manager is consistent in his position the club does better and I strongly believe in that.
"David Moyes had 10 years at Everton and when he joined he inherited a 'sell, sell, sell' (policy) but he built the club up."
Rivalry
Ferguson, who made disparaging remarks about Liverpool captain Steven Gerrard in the book saying he was not a "top, top player", could not resist another dig at the Merseysiders.
However, he accepted it was because of the Anfield side's historic success that the rivalry between the two north west clubs was so fierce.
"Coming to United Liverpool were the top dogs, there were fantastic teams in the '70s and '80s winning their four European Cups - or whatever it was," he said.
"Our younger fans who have grown up don't remember when Liverpool were successful.
"They don't remember when we were fighting to get on top of Liverpool.
"The two clubs are the two most successful in Britain, that is obvious, so the rivalry is always going to be there."
Ferguson also had a swipe at the FA, which is currently in the process of beginning the long process of how to overhaul the game from grassroots level and improve coaching.
"What we are seeing at the moment which is really wrong is the FA are fast tracking players (into coaching) because they are internationals," he said.
"It is ridiculous. You don't do them any favours whatsoever because this is a difficult industry.
"They should be making sure the coaching qualifications are intense and difficult because by doing that you know you are giving them proper preparation."
The former United boss, who is also due to speak in Glasgow, Aberdeen, London and Dublin to promote his book - his second autobiography after 1999's Managing My Life - insisted he was ignoring the press's reaction to his revelations.
"I wrote the book for the fans - to let them understand why I had to make certain decisions - not for the press," Ferguson said.
"The book is to make people understand how difficult the [Manchester United] job is. It's a massive club, the biggest in the world, and that expectation is always there."