David Moyes: Manchester United strikers Wayne Rooney and Robin van Persie are the best
David Moyes is confident Wayne Rooney and Robin van Persie are a match for any strike partnership in world football.
Last Updated: 02/11/13 12:02pm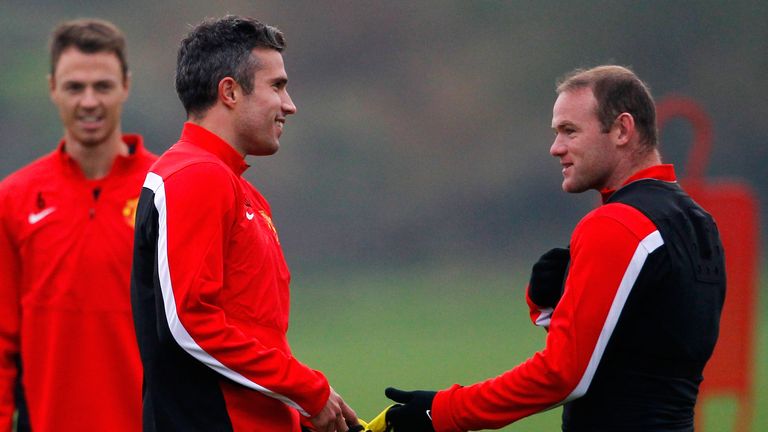 Van Persie's 26 Premier League goals last season helped United to win the title, but niggling injuries have hampered the Dutchman in the early months of this term.
He has scored five times in the league, compared to Rooney's four goals, while Liverpool pair Daniel Sturridge and Luis Suarez have already weighed in with 14 goals.
United boss Moyes would not swap his two main strikers, though, and he is looking forward to seeing Rooney and Van Persie firing on all cylinders.
"Wayne and Robin, on their day, will be a match for any player anywhere in the world, never mind just in this country," said Moyes.
"So I think when those two are firing, then they are the best, I really do. I see that. I think they're both incredibly talented, both natural goalscorers.
"As footballers they both can probably play in several different positions because of their ability. So I'm looking forward to those two firing.
"And when we hit a real run those two will be something to rival, they really will."
Moyes also has Javier Hernandez and Danny Welbeck to call upon, and he expects the amount of matches United have to play to be enough to keep everyone happy.
He added: "I said at the start of the season that injuries might happen and opportunities might come along for people at different times.
"Chicharito has shown he can start and shown he can score. Danny plays for England, has played a lot of games for us this season and would have played if he hadn't been injured just now. So I think both of those players can play a big part.
"We can't just go with two forwards. There are too many games to play with the Premier League, Champions League and, hopefully, the [domestic] cup competitions. There's enough football to keep them all happy and occupied."
Moyes also believes that Rooney, who has spent nine years at Old Trafford, has the credentials to eventually be United captain on a permanent basis.
Rooney has occasionally worn the armband for United, although Moyes has no plans to replace current skipper Nemanja Vidic.
"Wayne has certainly always had the ability to be a captain," continued Moyes. "He's got a love of football which is the biggest thing. He loves the game, he loves the ball and kicking around, it's natural to him.
"If you've got that then you've got leadership. And in his own way he leads by example in what he tries to do. I think he could be a future skipper here.
"But I've not got any reason to change. I'm happy. Vida, Patrice Evra, Rio Ferdinand - all of the really experienced boys are great behind the scenes and captains in their own right.
"Vida wears the armband, but I use them all for their guidance and experience."