Case for the defence
Former defensive star Gary Pallister assess the importance of settled centre-back pairings as Manchester United prepare to host Arsenal in their heavyweight Super Sunday clash
By Peter Fraser - Follow me on Twitter @SkySportsPeteF
Last Updated: 07/11/13 6:14pm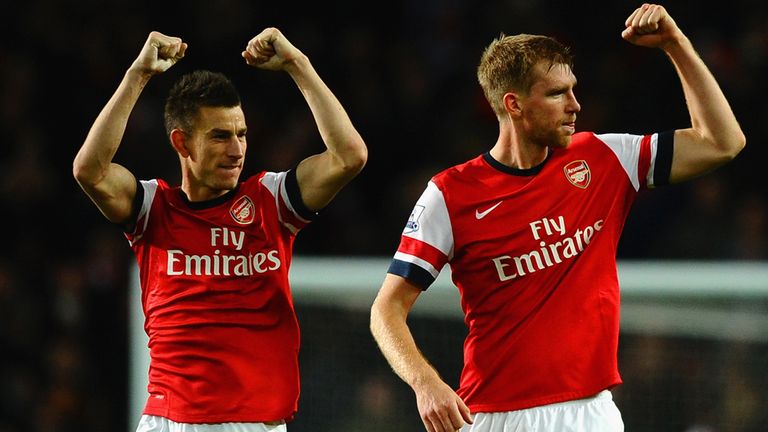 Table-topping Arsenal travel to old rivals Manchester United on Sunday when Arsene Wenger's visitors will hope to maintain their place at the summit while increasing David Moyes' problems.
Much has been made of Arsenal's impressive start to the season, especially after their famous midweek UEFA Champions League victory at Borussia Dortmund, and the likes of Aaron Ramsey, Mesut Ozil and Olivier Giroud have been earning vast praise.
But could the success of Arsenal's team also be attributed to the fact they have been able to start their Premier League games with just three different centre-back pairings while varying factors, including injuries, have meant United have had to field five different duos in just the first 10 games of the season? As a result, Arsenal have eight more points than United and have conceded nine goals to their weekend hosts' 13.
Here, Gary Pallister, supporting the Manchester United Foundation Chevrolet Trax eBay auction, gives Sky Sports an assessment of the importance of a settled and strong centre-back pairing and draws on the years of success he enjoyed alongside former United captain Steve Bruce.
The Partnerships
United's combinations...
The defending Premier League champions, have had to play five different centre-back partnerships in their starting line-ups already in this season's top flight.
Nemanja Vidic and Rio Ferdinand played together in the first five games in the league in 2013/14 and this included the 0-0 draw with Chelsea but also the defeats by Liverpool and Manchester City.
Ferdinand has also played once with Jonny Evans as a centre-back pair but this was the infamous 2-1 Premier League loss at Old Trafford to West Bromwich Albion and it included Morgan Amalfitano's long, dribbled goal through the heart of the defence.
Vidic has also played with Evans in United's most recent Premier League win at Fulham, where they failed to keep a clean sheet, while the former has also lined up alongside Phil Jones at centre-back in the 2-1 win at Sunderland.
United's final combination came in the 1-1 home draw against Southampton when Evans and Jones started together in a game which saw the visitors have 18 shots to United's 12.
Arsenal's combinations...
Wenger's team have the advantage in that they have been able to start with their first-choice centre-back partnership of Per Mertesacker and Laurent Koscielny in eight of their 10 league games this season.
The only time that pairing have lost was on the opening day of the campaign, when Koscielny was sent off against Aston Villa at Emirates Stadium. They also drew in the 1-1 share of the points at West Brom at the beginning of October.
Bacary Sagna has filled in as a starter at centre-back on the two occasions in the respective absences of both Mertesacker and Koscielny, winning at Fulham with the former and also enjoying a victory at Sunderland with the latter.
Gary's View...
"You have got to adapt to not playing with a regular partner in modern football and be more versatile to playing alongside different partners. In an ideal world, you would like to play together week in, week out, because you get to know each other's game.
"It is the fact that you know the strengths and weaknesses of your partner. You know his style of play. I knew that Steve Bruce would go through a brick wall to try and win the ball. I would be aware I needed to try and cover if he did miss the ball. If your partner does not have the greatest pace, you have to adapt. It is an understanding and knowing how your partner will react in certain situations. You achieve that in training or on match-days.
"A good relationship on a personal level also helps. Steve and I would socialise together with our wives and girlfriends. It is always nice to have a relationship off the pitch as well as on it."
Gary's Verdict...
"I do not think it necessarily gives Arsenal an advantage over United that they have had fewer centre-back pairings. All the players who are playing for United in the role are all internationals and all top-quality players, so I do not think it gives anyone an advantage.
"I guess you could say Arsenal have a more settled overall team. David Moyes is still trying to find his best XI and that is no surprise when he is only 10 league games into his tenure. There is maybe an advantage in that."
The Manchester United Themed Chevrolet Trax Auction raised £17,500 for the Manchester United Foundation for more information go to www.chevrolet.co.uk