Gary Pallister says Manchester United are desperate for a win on Sunday
Gary Pallister feels the pressure is squarely on Man Utd boss David Moyes ahead of Sunday's huge clash with Arsenal.
Last Updated: 08/11/13 8:34pm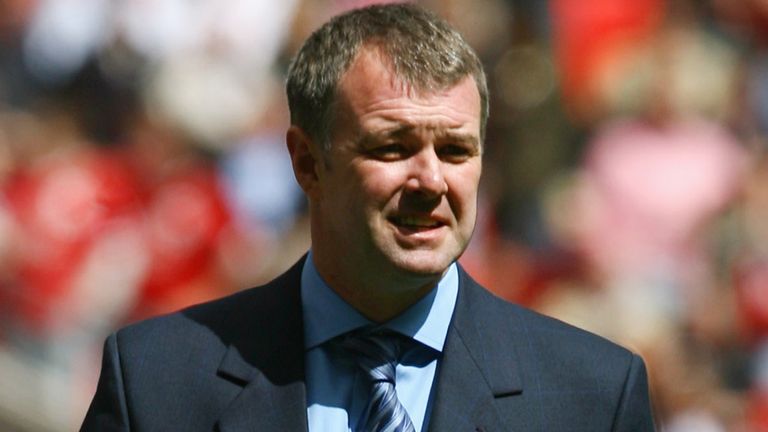 United already trail the Gunners by eight points going into the final game of the Super Sunday Hat-Trick, which is live on Sky Sports 1HD from 4.00pm.
Although they have hit some form - United are eight games unbeaten in all competitions - Pallister feels Sunday's game is one they cannot afford to lose.
"It's certainly more important for United," he told Sky Sports News. "Arsenal are eight points clear at the moment and if they were to go 11 points clear, it's a huge gap to try and catch up.
"Arsenal can come with a bit of a luxury, they can afford to lose it maybe and still be top of the table at the end of the day.
"United are desperate to win the game, they've got a bit of form back. They had a late comeback against Stoke, the Sociedad game and the Fulham game looks like they're finally finding their feet. It's up to be another titanic clash, reminiscent of the years gone by."
Pallister also disagrees with a number of pundits who feel Arsenal will not be able to keep up their quick start, a thought echoed earlier in the week by United striker Wayne Rooney, although they go into the game without a win at Old Trafford since 2006.
Asked if he thought they could win the title, he added: "Not if you listen to some of the pundits out there, they all seem to say Arsenal can't win it.
"I'm not sure if I'm in that corner, they've been building over number of years a lot of frustration for a lot of Arsenal fans but I think their style of football is fantastic.
"They've got some good young talented players in there , some experienced ones and they've obviously added Ozil to that squad, a big time player, and they're playing the best football in the Premiership at the moment.
"If we were to go 11 points behind them I think it will be a difficult task, it will take a long while before we get ahead of them again if we get our straps and play to the form we're capable of.
"It's set to be a great battle but Arsenal can go in there a bit more relaxed.
"At the beginning of the season there were a lot of people ready to shoot Arsenal down, I think they've bounced back in tremendous style as I said I think they're playing the best football now, they have been for a while. Real tough battle for United at Old Trafford, if United can win I think it's a real statement for them."
He is also concerned that Moyes is struggling to find the right combinations in his United side, most notably in midfield where Marouane Fellaini was their only high-profile summer signing.
Pallister said: "They went for a number of targets and failed to achieve any one of them, Fellaini was the only one they brought in who sort of got the interest of the United fans.
"He's still trying to find is feet at a club the size of Manchester United fans I guess, the manager's said the club's disappointed. I wouldn't be surprised if they went for them again.
"I think maybe he's still looking to find which is his best central partnership but he's looking at that all over the pitch as well, he's not long been at the club. He's got to find out about the players, they're still coming to terms with a new manger after 26 years of Sir Alex, there were always going to be teething problems.
"I think players at the moment, the likes of Januzaj are proving they should play week in week out because they're having an impact on the team and making a difference."
Watch United take on Arsenal on Sunday, the third game in the Super Sunday Hat-Trick, live on Sky Sports 1HD. Kick-off is at 4.10pm