Manchester United await scan results after Nemanja Vidic suffers head injury against Arsenal
Manchester United are waiting for scan results after captain Nemanja Vidic suffered a head injury against Arsenal.
Last Updated: 11/11/13 4:39pm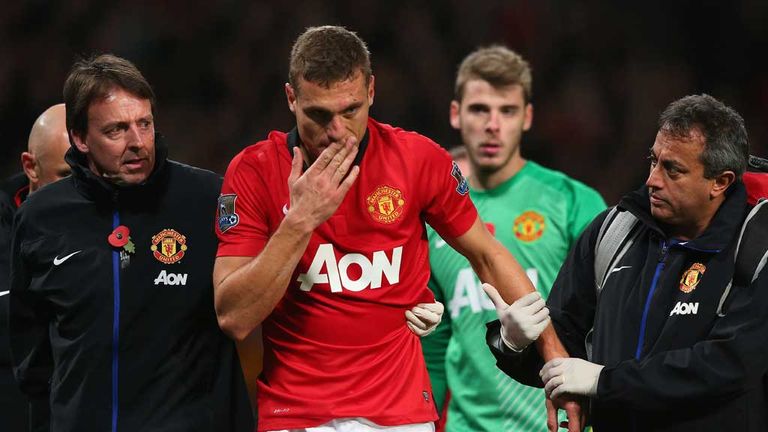 Vidic collided with team-mate David de Gea shortly before half-time in Sunday's 1-0 win and looked shaken as he was led down the tunnel at Old Trafford.
The Serbia international was later taken to hospital for checks, but manager David Moyes is hopeful of a positive prognosis.
Speaking to Sky Sports after his side's victory, Moyes said: "(Vidic) has gone to hospital, I have only just seen him myself and I didn't see how bad it was from the touchline, but it was a terrible clash.
"It was an accident but hopefully he will be okay, I will find out more from the medics later on."
Only minutes before Vidic was hurt, Arsenal keeper Wojciech Szczesny required treatment following a clash of heads with United's Phil Jones.
Szczesny did not immediately move after hitting the ground following the aerial collision but he quickly recovered after being treated by the physio and played on.
The incidents came a week after Tottenham keeper Hugo Lloris played on - to widespread criticism - after briefly being knocked unconscious at Everton last week.
Headway, the head injury charity, was highly critical of Spurs but said it was too early to say whether Arsenal had made the right call on Szczesny.
Headway spokesman Luke Griggs said: "I don't want to get involved in judging the decision of Szczesny - every situation is unique and different and the medical team have made a call.
"With Vidic, they have taken him off after the medical team deemed him not fit to continue. He was unsteady on his feet, there were more obvious signs.
"From the very start the whole situation was to raise awareness about head injuries.
"It has made people think. Especially the impact it has on youth and amateur football, about taking risks when they are playing football. They might want to be a hero and carry on - and they don't have medical teams at amateur football.
"If they are unsure and unsteady on their feet, it is best to go off."