Premier League: Tim Howard backs David Moyes to be a Man Utd success
Everton keeper Tim Howard believes 'father figure' David Moyes has what it takes to be a success at Manchester United.
Last Updated: 14/11/13 9:27am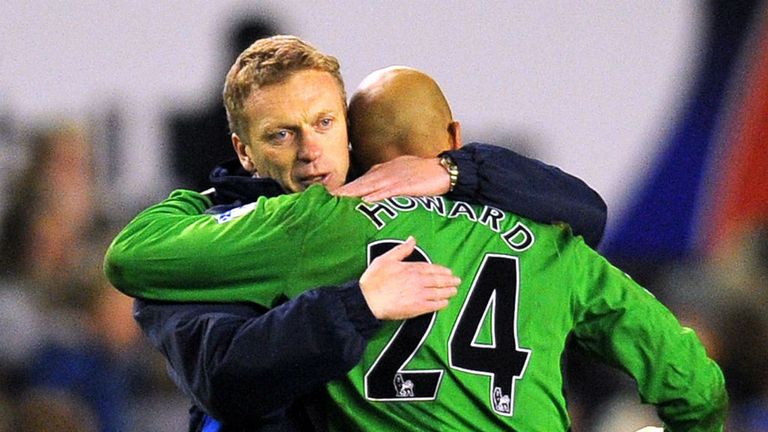 The 34-year-old, who is looking to win his 95th cap when the United States take on Scotland in a friendly at Hampden Park on Friday, began his career in England at Manchester United under Sir Alex Ferguson 10 years ago.
He then switched to Everton and the shot-stopper says it was Moyes who really shaped his career in the seven years he spent under him.
Howard believes the Scottish tactician will be able to get the best out of his players at Old Trafford as he seeks to continue the success brought by Ferguson.
He told the Daily Record: "I got a great chance going to Manchester United under Sir Alex but my career was moulded and shaped by David. When I look back at my career, he will have had the biggest influence.
"Not everyone takes to his style but for me, I've always been the type of player who wants it on the chin.
Father figure
"If it's good, then I want a pat on the back but if it's bad, then give me a talking to and Moyes was like a father figure.
"He trusted me a lot but with that trust and responsibility, I sometimes got the short end of the stick.
"The main thing is I always appreciated his honesty. It seemed like he was rollicking me every week but when he placed that much responsibility on your shoulders, then he expects a lot of you and I wouldn't be where I am now without him.
"What is the definition of a Manchester United manager? He's a top coach who always gets his best out of his players so if that's what it takes to be their manager, then he is definitely it.
"They've got a great squad. Change is difficult and following Sir Alex is never easy."