Manchester United's Ryan Giggs might extend career beyond 1000 appearance mark
Ryan Giggs admits he might extend his Manchester United career even further if he passes 1000 appearances for the club.
Last Updated: 27/11/13 5:22pm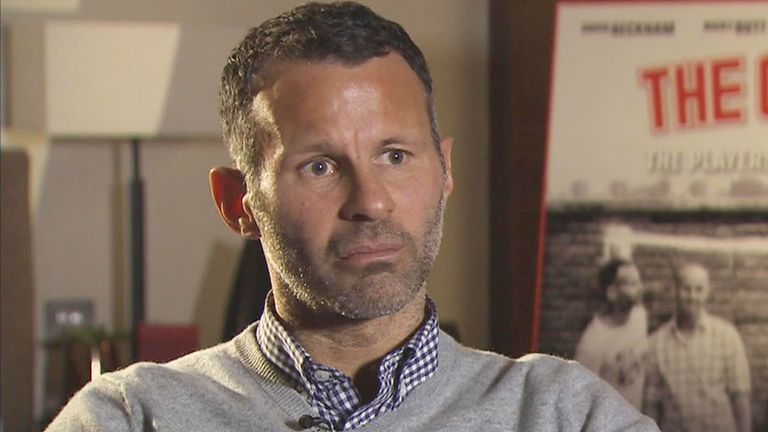 Giggs made his debut for United back in 1991 and can look back on a glittering spell at Old Trafford as he approaches his 40th birthday.
The Welshman made his 952nd Red Devils appearance in Sunday's 2-2 draw with Cardiff and will continue playing if he remains part of manager David Moyes' plans.
When asked about the milestone, he told Sky Sports News: "I honestly don't know. It's not something I can say that I've thought seriously about.
"If it comes great, if it doesn't I'm not going to grumble, but we'll see. If I'm playing well and enjoying it then I'll carry on."
Giggs rubbed shoulders with the likes of Steve Bruce and Bryan Robson in United's dressing room as a youngster and accepts that he is now the elder statesman at the club.
"When I was in the first team, you're looking at Brucey and Robbo who were 33, 34, and you were thinking that is ancient, so I don't know what the young players are thinking of me," he said.
"They're all saying 'it's your birthday this week' and I'm going 'yeah, yeah it's a big one I'm 35'. They're looking at me, and then obviously they get the truth out that I'm 40 and they're sort of shaking their head and I'm thinking yeah it's old."
Phil Neville graduated with Giggs from United's FA Youth Cup winning side in 1992 and the pair were part of a hugely successful era for the cub.
Neville believes his former team-mate has written his name in football history after picking up Champions League, Premier League and FA Cup winner's medals.
"He's got to go down as probably one of the greatest players that's ever played in the Premiership," said Neville.
"He's still achieving, he's still got the same determination he's still making an impact every time he plays.
"He's a fantastic human being and I can see him playing until he's 41 because he looks after himself so much. He's got to keep going and producing the levels that he's doing, but if anyone can do it then Ryan Giggs can, he's smashed every record that's been put in front of him."