Champions League: Manchester United boss David Moyes salutes season's best display
David Moyes felt Manchester United had produced their best display of his reign after the 5-0 win at Bayer Leverkusen.
Last Updated: 28/11/13 8:20am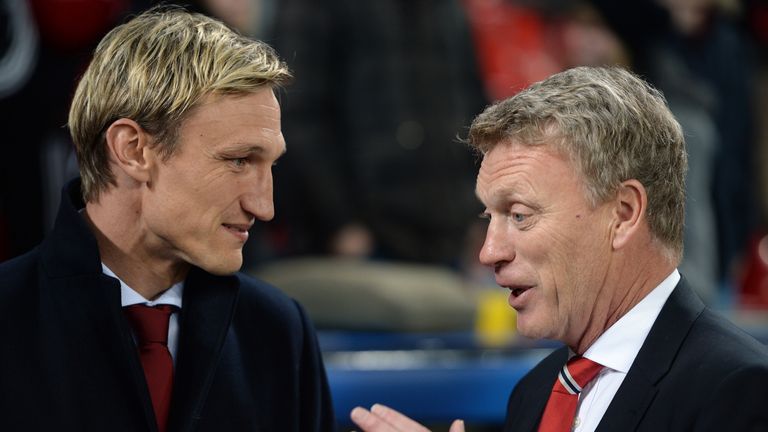 United clinched their place in the last 16 of the UEFA Champions League with their biggest away win in the competition as Antonio Valencia, Jonny Evans, Chris Smalling and Nani scored at the BayArena, along with an Emir Spahic own goal.
The result extended United's unbeaten run in all competitions to 11 games and left Moyes enthusing over the sort of display he has been craving for since replacing Sir Alex Ferguson in the summer.
"(The performance) is what I've been hoping to get more often - I've not had it as often as I'd like," he told Sky Sports.
"There have been signs that we've been getting better. There have been times that we could have got three or four goals and tonight, thankfully, we did."
Pressed on whether it was United's best performance of the season so far, Moyes said: "I'd probably have to say it is.
"Obviously to score five goals, we've not done that yet, and to do it in a game of this magnitude away from home is special.
"I hope I can continue the standards of before (under Sir Alex Ferguson). Tonight showed that. Qualification is expected, as is to do well in the league and cups."
Moyes admitted it was difficult to pick out which aspects pleased him the most, although he was full of praise for Wayne Rooney and Shinji Kagawa, as well as Ryan Giggs.
Kagawa supported Rooney in attack, while Giggs was excellent in midfield as he completed 90 minutes just two days before his 40th birthday.
He said: "There were so many good performances. To come to Germany and get such a good result - they're second in the league and it gives you an idea where our performance and result was.
"All round, it was a totally great performance from the players.
"I think Wayne had four assists tonight. He was very good and Shinji was terrific as well.
"It is a long season so we are going to make sure we have different combinations for different games."
On Giggs, the manager added: "People will question his age but you can't question him as a player.
"He is fantastic. I thought he was brilliant tonight. He did his job with no fatigue for his age.
"He is just a terrific all-round footballer."
Giggs also expressed his pleasure at the performance, saying: "I think our speed (was the difference).
"The first goal was a good example; quick play. It was a pleasure to play behind our front four."